DBS Business For Impact Internship Programme
Students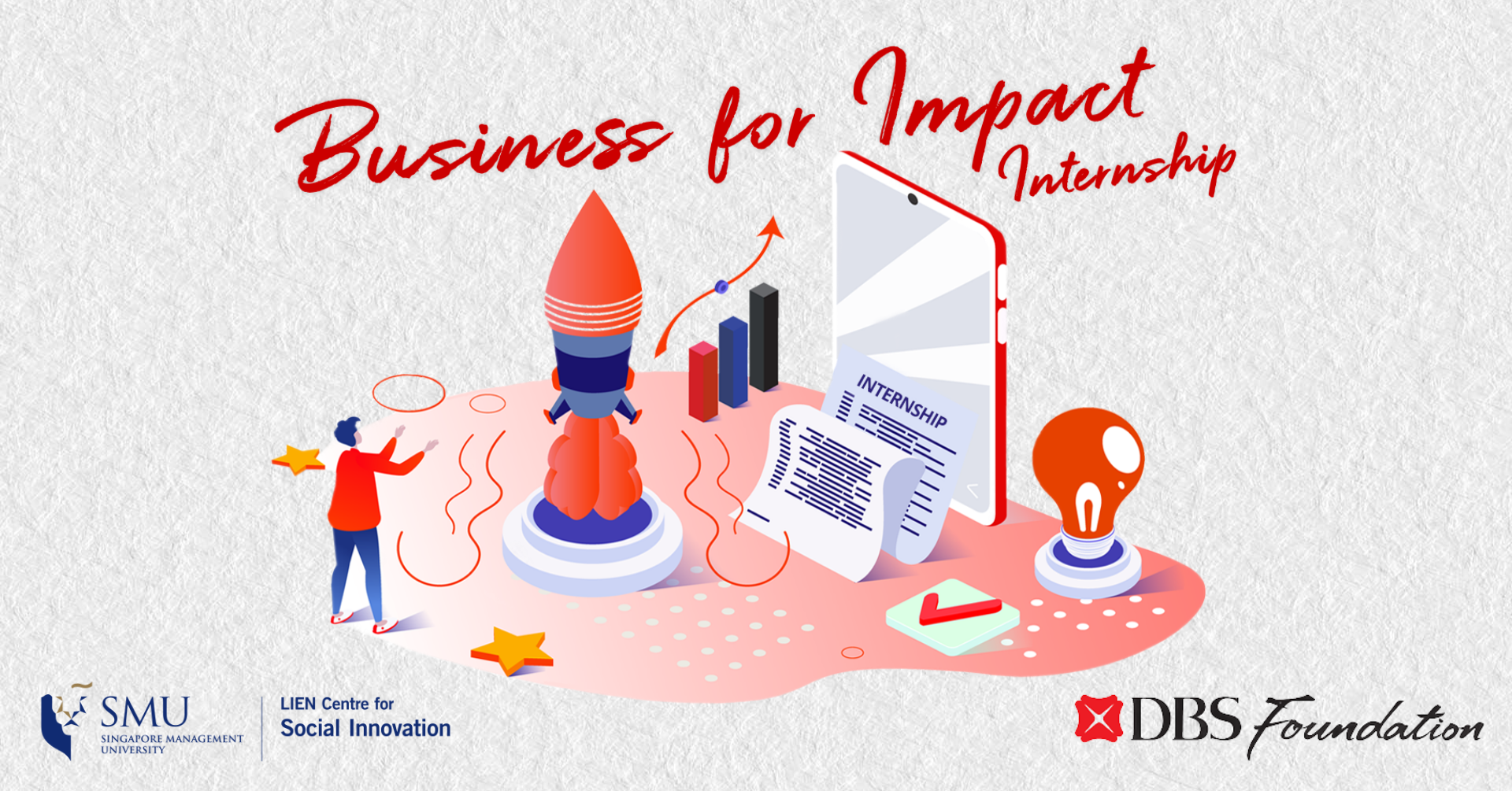 Submit your application via SMU OnTRAC Portal (Year 2 - Year 4) or this Google Form (Year 1) now!
Social entrepreneurs are transforming the business landscape by building viable, self-sustaining businesses with social and environmental missions. The Business for Impact Internship Programme will challenge you to do business differently – to apply principles of marketing, business and management, in tackling pressing social and environmental issues, such as food wastage, access to water in the region, elderly care and others. You will intern at innovative local social enterprises at the forefront of tackling such issues.
The internship positions are administered under the DBS Business For Impact Internship Programme, and the programme is a collaboration between SMU Lien Centre for Social Innovation and DBS Foundation. Interns selected for this programme will receive a competitive stipend of up to SGD $1,250 during their 4 to 5 weeks winter internship period. The internship will be any 5 weeks between 5 Dec 2022 - 6 Jan 2023.
What's it like working at a social enterprise?
How does it differ from working in a corporate office - or is there even a difference? Here are some testimonial stories from our past cohort.
Edible Garden City - Goh Hai Yang
Boxgreen Singapore - Leow Jingya
What You Will Gain:
1. Develop Leadership: Work closely with the founder or senior managment of your host company
2. Achieve More: Learn to balance the financial and social impact goals of a business
3. Embrace Change: Be surrounded by innovation and learn how to solve problems in creative way
Programme Criteria
Applicants must be matriculated SMU undergraduates during the internship.
Period of Attachment: 5 Dec 2022 - 6 Jan 2023 (up to 5 weeks)
Stipendiary support: Up to $1,250 ($250/week)
Students should also note the following prior to submitting your application for the programme. Ensure that you fulfill the following points:
This programme is opened to Year 1 – Year 4 Undergraduate students based on admit year.
As stated in DKHMCC's FAQs, in general, most students can only embark on internships after completing two terms of coursework. Therefore, only successful Year 2 - Year 4 students are able to have this internship be credited for their graduation criteria of min. 10 weeks internship. For Year 1 students, by submitting your application into this programme, you acknowledge and understand that this internship will NOT be credited into your min. 10 weeks internship graduation criteria.
You have completed your pre-internship requirements
Students except for All Year 1s, SCIS Year 2, can still use the internship to meet their mandatory internship requirement as they can combine internships to fulfill the mandatory internship requirement.
For more FAQ on internship, please refer to DKHMCC's FAQs, or contact DKHMCC directly.
Application Deadline:
Application Round II is now open on OnTRAC, closes 12 Nov 2022.
Please submit all application via OnTRAC portal, attaching all relevant document such as Resume, Transcript etc.
We are progressively sending the application to the participating social enterprise. Positions may be filled ahead of closing date of 12 Nov 2022.
How To Apply:
For Year 1 students:
To view the JDs, please click the respective jobs' hyperlinks in the table below.
Submit your application via the google form here, together with your resume, transcript and a cover letter station why you applied for this internship position.
Shortlisted applicants will be contact by the Social Enterprise directly for an interview.
For Year 2 - Year 4 students:
Login to your SMU OnTRAC Account when application opens and search for 'Lien Centre for Social Innovation' or Job ID listed below.
You will see a list of available positions with [DBS] in the title, submit your application together with the necessary documents. Please note that this programme is only open to SMU undergraduate students.
Shortlisted applicants will be contact by the Social Enterprise directly for an interview.

If you have any questions about the programme, please email liencentre [at] smu.edu.sg.
Applications Open for Winter 2022 in now open! Apply via SMU OnTRAC Portal (for Year 2-4) or this Google Form (for Year 1)!
Brought to you in partnership with DBS Foundation:

To know how DBS Foundation supports Social Enterprises, please visit dbsfoundation.com