APAC CUA'S Quarterly Kick Off Meeting
Seminars and Conferences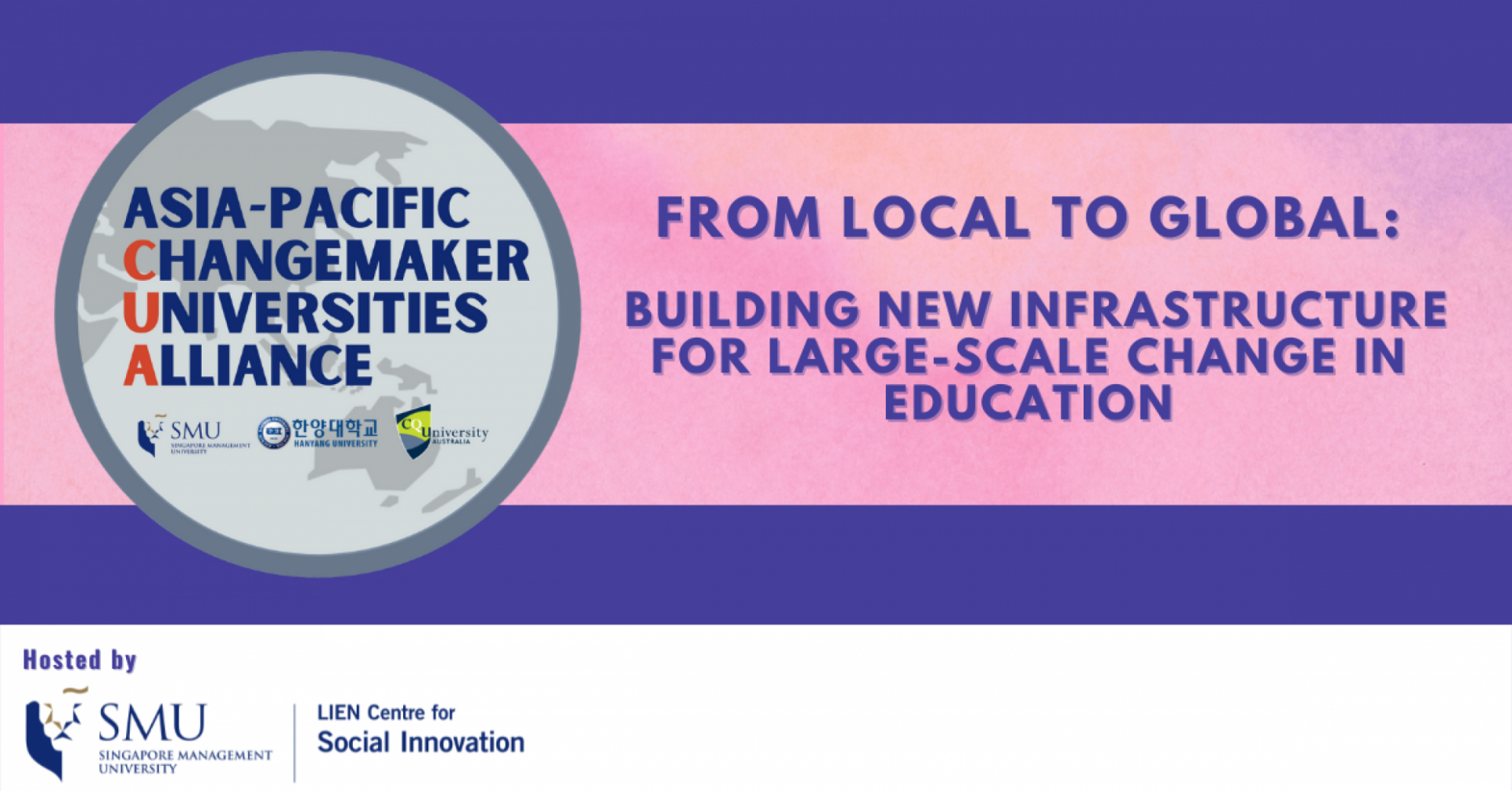 From Local to Global: Building New Infrastructure for Large-scale Change in Education
Join us in the inauguration of the very first quarterly convening between changemaking universities in the region, hosted by SMU Lien Centre for Social Innovation. Together with 2 Ashoka Changemaker Universities in Asia-Pacific - Hanyang University (South Korea) and Central Queensland University (Australia), witness the first partnership for changemaking education - a trailblazing collaboration to share best practices, creating opportunities for students, faculty, and staff, capitalizing on the changemaking aspects of Ashoka U campuses.
In our first quarterly you can expect to learn more about the following:
Find out more about the Asia-Pacific Changemaker Universities Alliance (APAC CUA), its vision and mission.
Get to meet and know other change leaders from different campuses.
Gain new insights into the best practices from other changemaking institutions.
Identify opportunities for future co-creation for curriculum, co-curriculum, and research in social innovation/changemaking.
Be part of a larger movement in higher education for global leadership and changemaking.
Special speaker Marina Kim, Co-Founder of Ashoka U, will also be sharing more about changemaking.
Date: 23rd July 2021 (Friday)
Time: 9.00AM - 11.00AM (GMT/Singapore) | 10.00AM - 12.00PM (KST/South Korea) |11.00AM - 1.00PM (AEST/Australia)
Location: Online via Zoom (Zoom link will be sent in an email to registered participants)
Register now via this link. For more information, please email liencentre [at] smu.edu.sg
---
By registering for this event, you hereby agree that the Singapore Management University (SMU) may collect, use and disclose your personal data that you provide in the registration form for the purpose of sending you updates about the various events and related activities organized or co-organized by SMU. You also consent to the disclosure of your personal data to SMU partners/affiliates and other third-party service providers that SMU may engage from time to time.

SMU respects the privacy of individuals and recognizes the importance of the personal data you have entrusted to us and believe that it is our responsibility to properly manage, protect, process and disclose your personal data. We will collect, use and disclose your personal data in accordance with the Personal Data Protection Act 2012. find out more about Personal Data Protection Statement, please view our Privacy Statement or contact us at liencentre [at] smu.edu.sg

Should you wish at any time to withdraw your consent for the collection, use and/or disclosure of your personal data after submitting this registration, please contact us at liencentre [at] smu.edu.sg