Coffee for Change dialogue: Tackling Food Waste
Friday Oct 16,2020 | From Our Office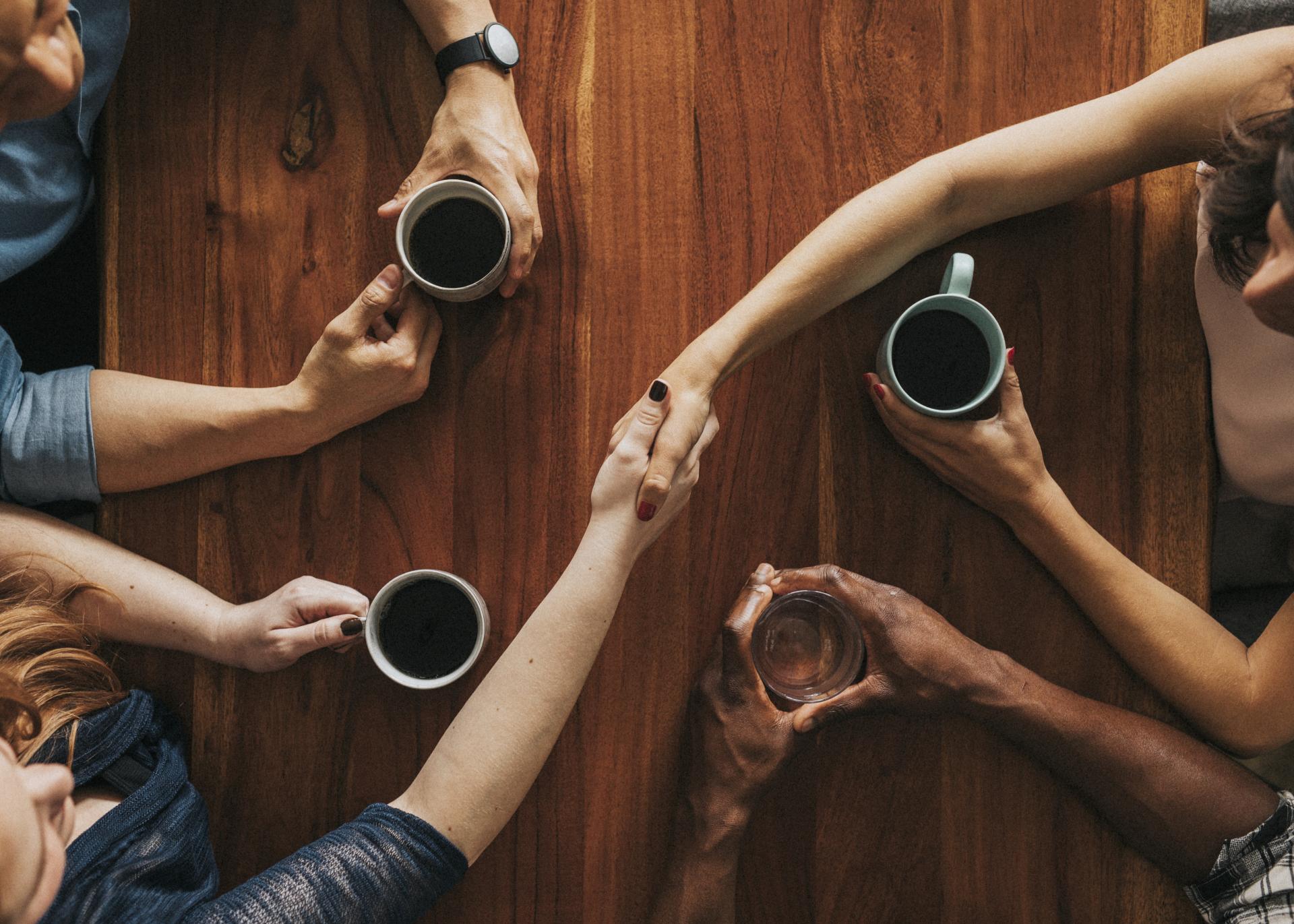 Unfinished food left on the table at food courts and restaurants is a common sight in Singapore. But did you know that food waste is one of the country's largest waste stream? Last year, 744 million kg of food was dumped—equivalent to two rice bowls thrown down the chute per person, every day. As shocking as this sounds, the amount of food waste has only been growing since.
Bringing the conversation around food waste to the table, the Lien Centre for Social Innovation joined Ashoka Singapore at their recent Coffee for Change virtual session to discuss the issues of food sustainability in the country. Moderated by Bjorn Low, Ashoka fellow and founder of Edible Garden City, panelists for this informal session included Dr Dalvin Sidhu and Dr Tania Nagpaul, co-authors of The Hunger Report; Cuifen Pui, director of Food Citizen; and Rachel Tey from the Eco-Youth Collective.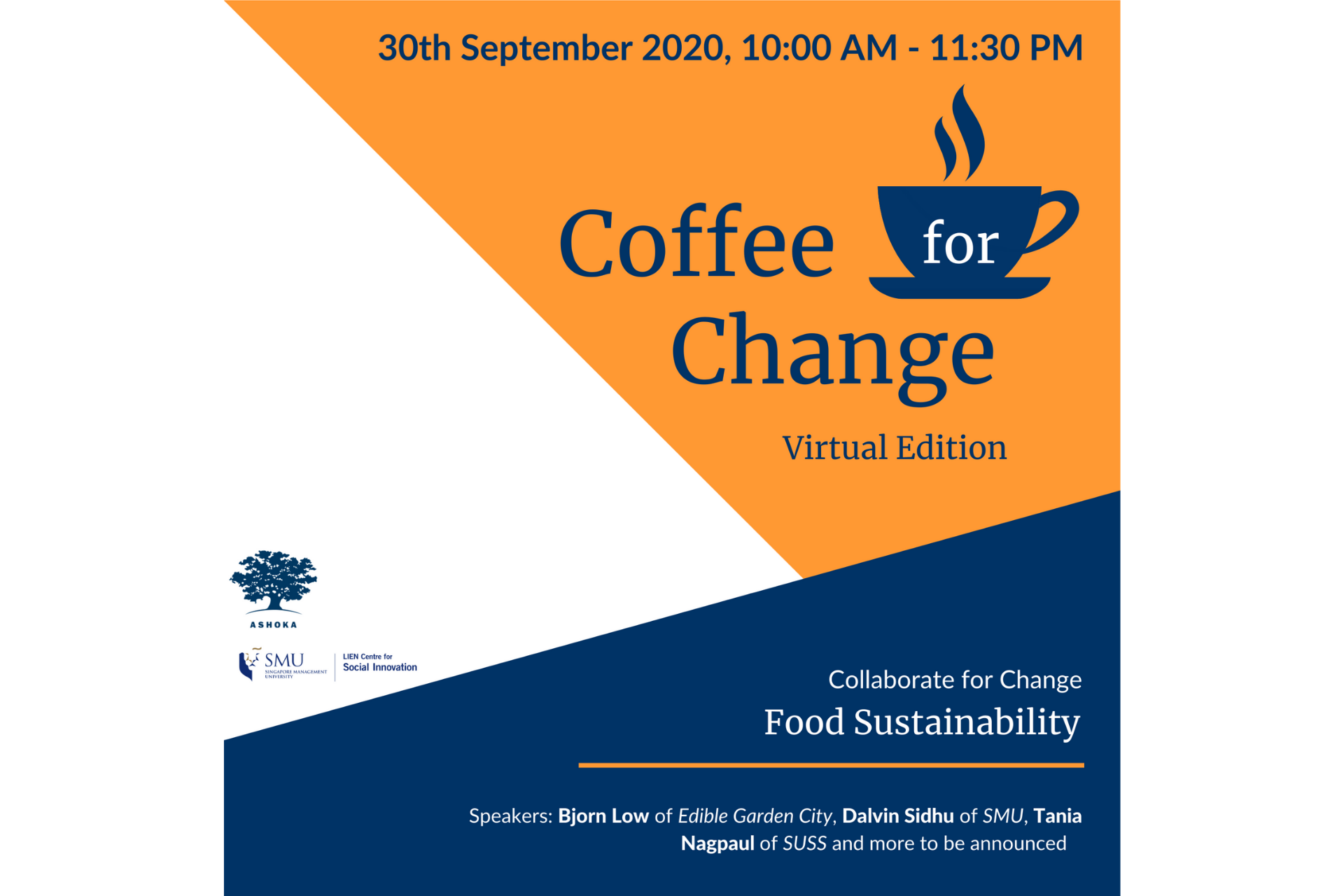 Living a more sustainable lifestyle
Access to nutritious food is probably something we take for granted in an advanced society like Singapore. However, according to Dr Sidhu, 10.4 per cent of Singaporean households face food insecurity (the inability to meet a basic dietary needs) at least once a month.
With this in mind, the session was a reflective one for attendees, as they were faced with the reality that even as so much food is wasted every day, there are people in the same neighbourhood who do not have enough to meet their basic needs.
Bringing a practical approach to this topic, Pui shared her personal journey around food and sustainability. She explained that even though food is the focal point for discussion, what's more important is to maintain a more sustainable lifestyle as a whole. "Over the past five years, I've been actively advocating various ways to be more sustainable, from sharing my community garden with neighbours to being more involved in addressing food waste issues by talking to urban farmers, community kitchens, and caterers to understand their views."
After many different conversations, she began to connect the dots in search for a solution to reduce food waste and discovered that there was a much wider problem. "I found that food waste isn't only about ones that have gone bad. So much of perfectly edible food is wasted every day. For example, vegetables that don't grow in the right shape, or meet the "standards" to be sold in supermarkets never see the light of day."
Pui also found that the Singapore food system was very disconnected. "Everyone is doing their own thing with good intentions, but what is missing is the bigger picture. Communities, academics, and businesses all want to find solutions to a more sustainable food ecosystem, but they aren't talking to each other. That's why we created a platform to enable these conversations." The purpose is simple: rather than working blindsided, connect with each other so they can find a solution that will benefit everyone.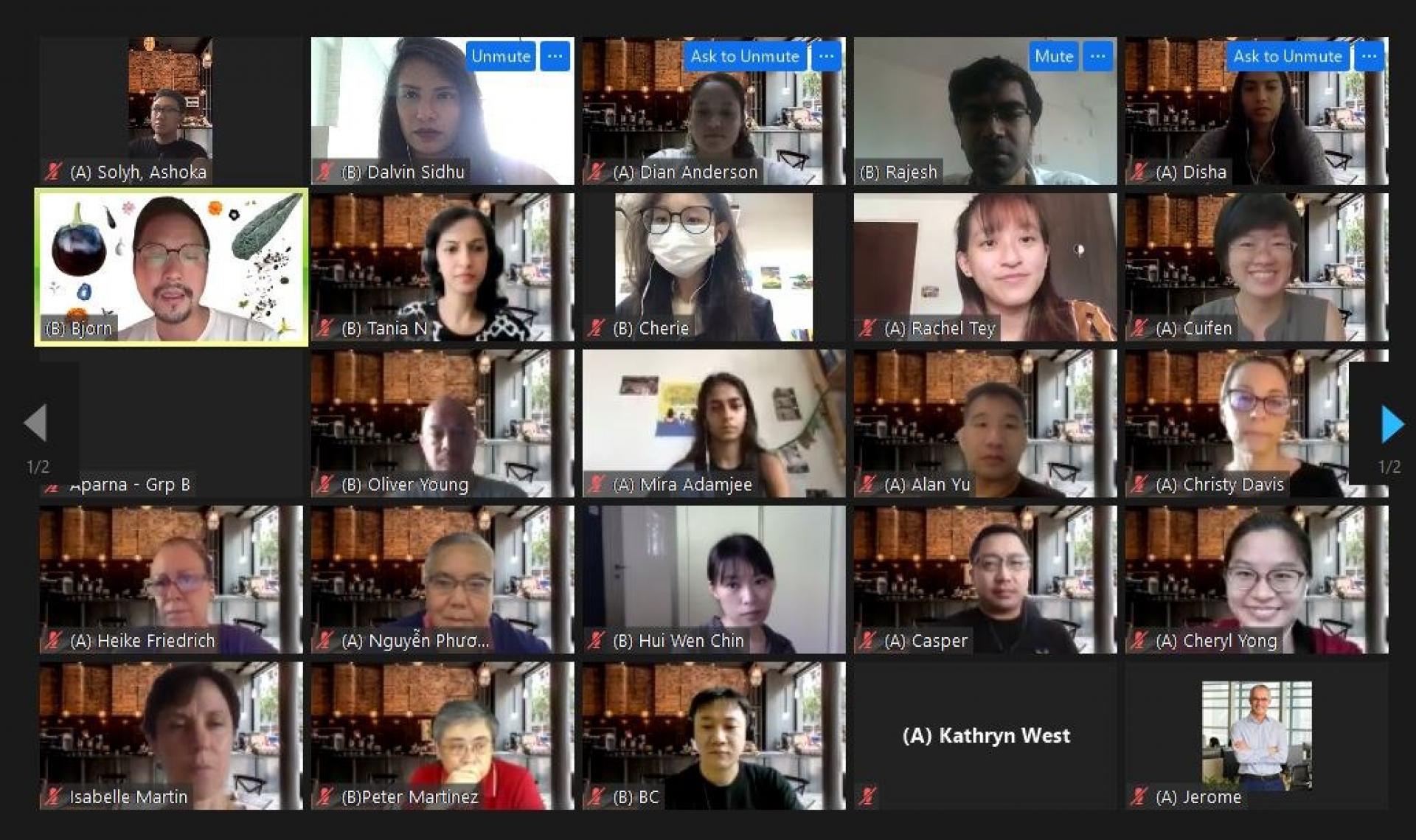 Empowering the youth
A tertiary student herself, Tey said that for starters, the youth should be asking more questions and learning about what is really happening on the ground, instead of making assumptions when it comes to food sustainability. "There are many things we assume we know but may not actually know. For example, company regulations around food safety that may contribute to food wastage. By having our facts right, we can begin to think about ways to effectively work around them."
Echoing Pui's point about how there are many organisations that already exist to address this issue of food waste, she said she often tells her peers looking to start their own projects to first think about how they can ride on existing projects. "It's much harder to start something from the ground up, and with so many initiatives already happening, we should focus more on collaboration."
From urban farming to community gardens, a lot was shared during the short hour, but Tey stressed that at the end of the day, mindsets and attitudes need changing. "For us, I believe it comes back to how we can influence others to live a sustainable lifestyle. If people believe in a cause and are willing to do something about it, then the positive outcome will follow."
Top image via rawpixel.