Hunger In A Food Lover's Paradise: Understanding Food Insecurity In Singapore
2019 | Unmet Social Needs Download the Report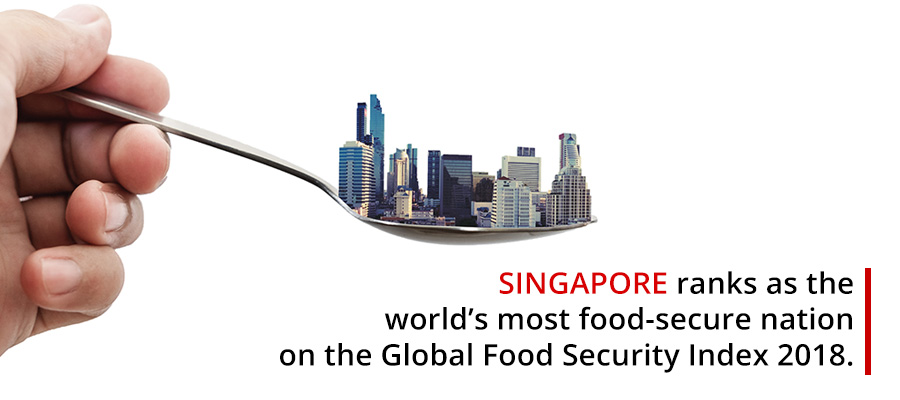 While Singapore is renowned as a food lover's paradise and ranks as the most food-secure nations on the Global Food Security Index 2018, food insecurity exists among certain sections of society. This report provides a deeper understanding of the food insecurity situation in Singapore. Food insecurity happens when people do not have or are not confident of having access to sufficient and nutritious food for a healthy lifestyle.
Using a dual perspective from food support organisations and households, this study provides insights on these questions:
Who among Singaporean citizens and Permanent Residents is experiencing food insecurity and why?
How are the existing food support systems meeting these needs?
What are the gaps in service provision?
Finally, this report makes recommendations on how the gaps in service provision might be filled for a smoother and more targeted food support distribution system.
Our Methodology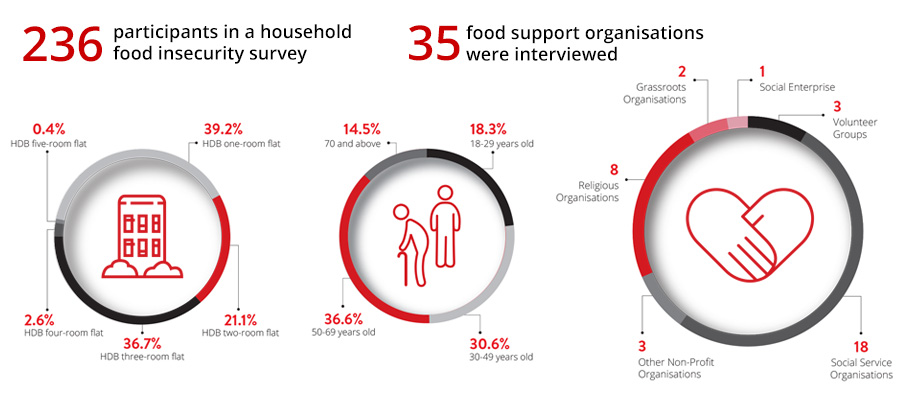 We interviewed 35 food support organisations to understand their services and perspectives on food insecurity in Singapore. A household food insecurity survey with 236 participants was also carried out. Four regional areas (West, Central/South, East and North) covered by food support organisations were surveyed.
Our Findings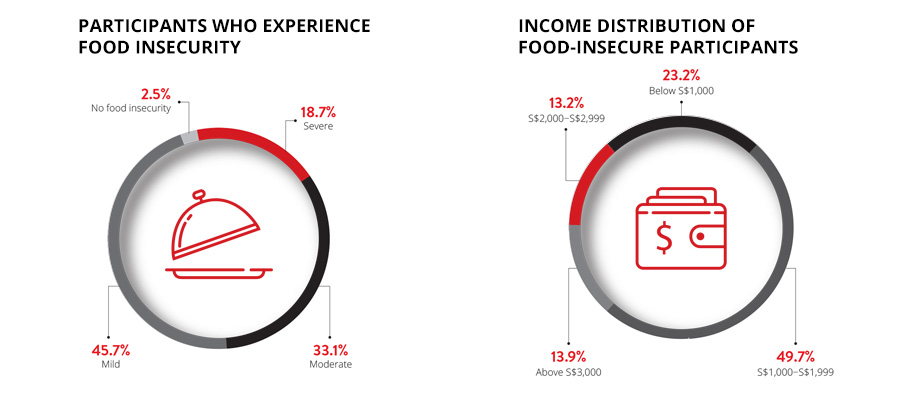 Our findings show that a substantial percentage of the participants experienced moderate to severe food insecurity. Surprisingly, food insecurity was not limited to the lowest income households. 27% of the participant sample had an average household monthly income of S$2,000 and above.
Other factors influence food insecurity. 57% of participants that reported having chronic health conditions were moderately to severely food insecure. Although poor health is often regarded as an effect of food insecurity, findings suggest that it can also be a precursor to food insecurity.
For more information, Download the Report and email us at liencentre [at] smu.edu.sg if you have any questions.