Social Conversations: Getting Wide Awake and Becoming Socially Conscious
Thursday Sep 24,2020 | From Our Office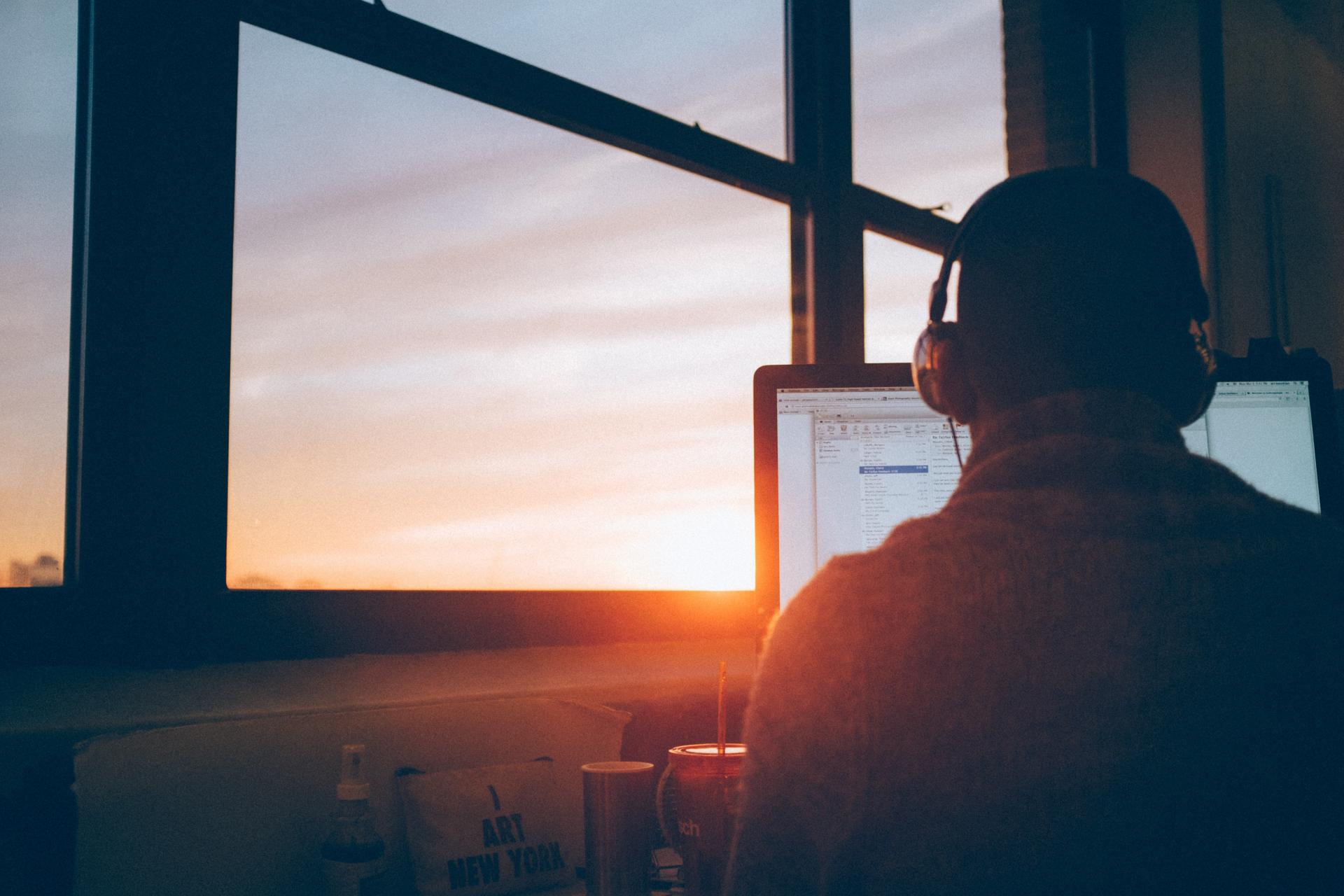 Have you ever wondered what the world would be like when our children grow up? Will they still be able to take hikes in the forest and go on diving trips in the open sea to experience marine life in their natural habitat? Or will they be a generation suffering the effects of global warming? With the increasing awareness around the need to preserve the natural environment, there has been more conversations in the recent years surrounding the notions of mindfulness and social consciousness. But what do these words really mean? As part of Earthfest Singapore, the Lien Centre for Social Innovation partnered with Centre for a Responsible Future to unpack the definition of social consciousness by discussing how we can all practise it in our everyday lives.
Moderated by Lien Centre for Social Innovation Assistant Director Ho Han Peng, the online event titled, Getting Wide Awake: A Conversation on Social Consciousness saw four panellists across two generations: SMU undergraduates Elyza Carbajal and Ishan Singh, Singapore Army veteran Frederick Goh, and senior project lead at Tri-Sector Associates Chen Sikai.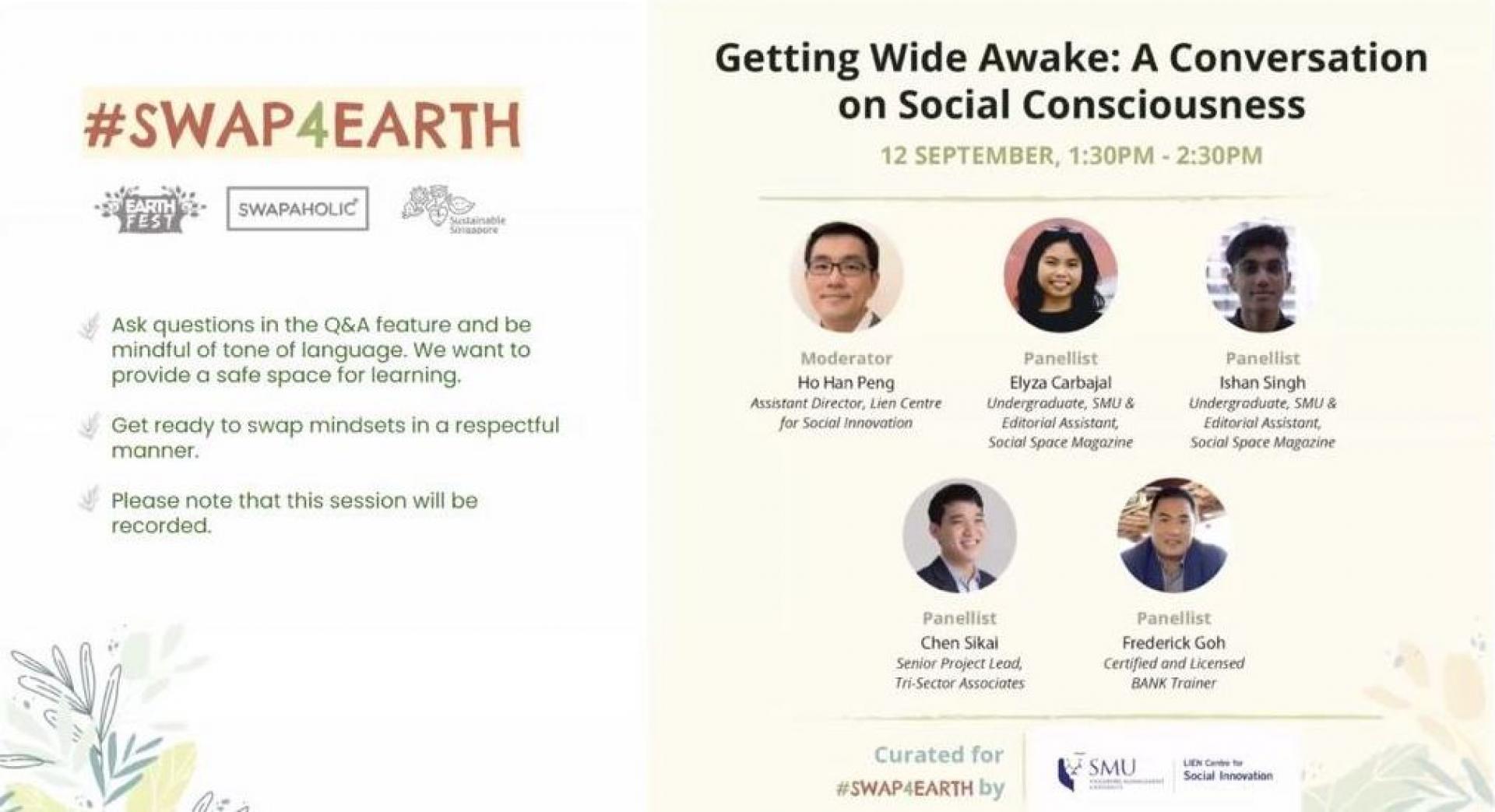 Talking about social consciousness is easy to do, but all panellists admitted that it can be difficult to practise it in our everyday lives. Ishan shared that, just like himself, many of his peers struggle to do something for a social cause when they cannot visualise the consequences of their actions. "The recent talk around not using straws, for example, is challenging. I mean, we've been using straws all our lives, and nothing has really impacted us in a negative way. Even if we stop using straws now, we won't see a direct and immediate impact, so it actually just becomes an inconvenience," he said. But in an attempt to create more awareness around sustainability, he has partnered with Elyza to start a bubble tea project, which encourages people to imagine a more sustainable world for bubble tea makers and consumers.

Belonging to the generation of social media, he added, "I think a growing issue is also trying to differentiate between actually being socially conscious and maintaining an image, especially online. Changing a profile picture or using green hashtags don't mean much without a change to lifestyle."
While the younger generation look for new ways of doing things, Frederick pointed out that sometimes, just taking the time to reflect upon our actions and their repercussions can make all the difference: "We live such fast-paced lives, but we need to stop and ponder about how we are living our lives and what else can we do to effect positive social change."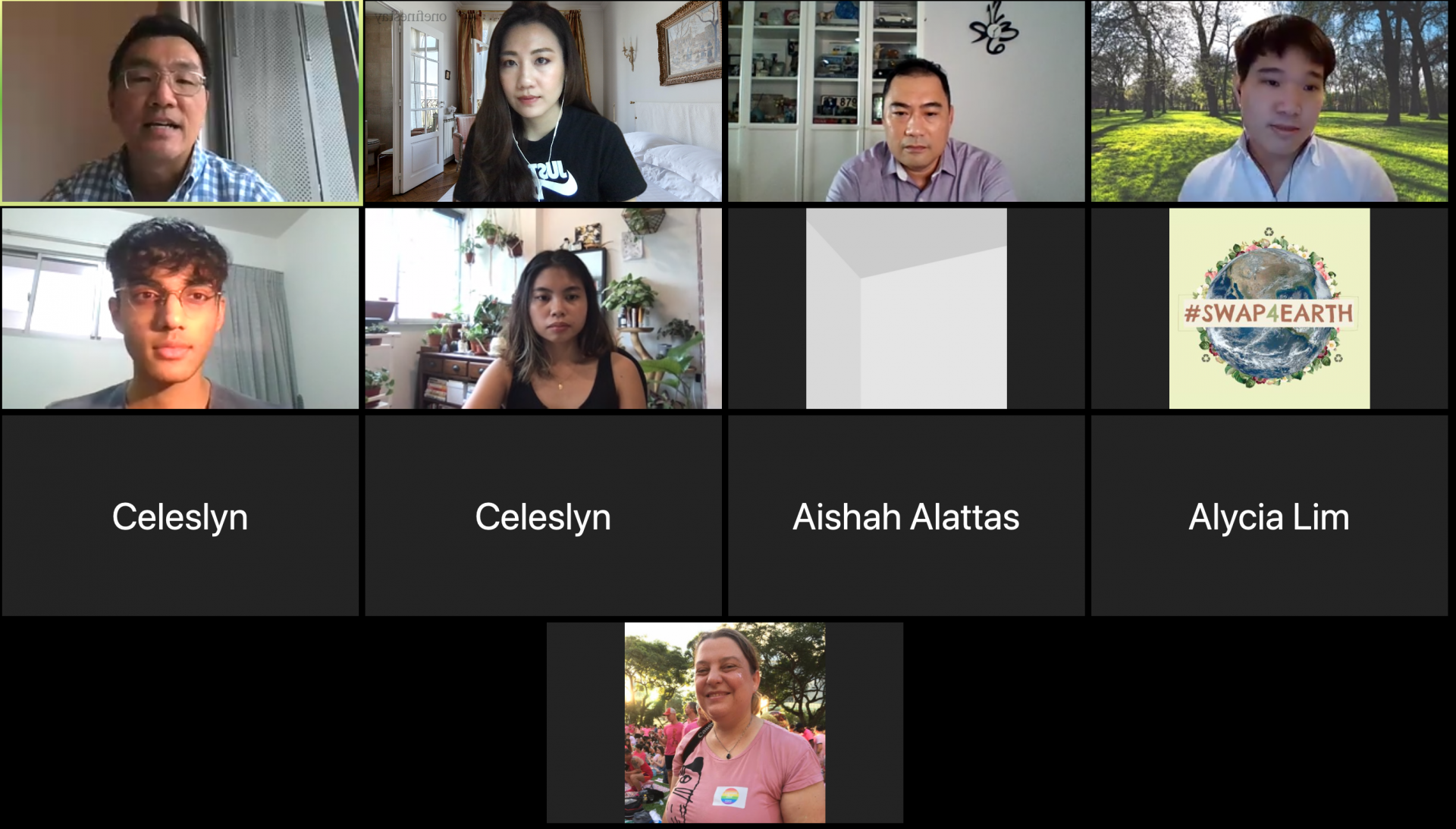 Echoing his statement, Sikai said, "I think to be socially conscious is to be really aware of how we might be a part of a broader problem. An interesting fact is that 10 per cent of the richest people in the world contribute 50 per cent of fossil fuel emissions. And we are likely to be part of that 10 per cent. So I think it's really on us to reflect, and make changes to our own habits."
One of the key topics that arose from the dialogue was the idea of how people of different generations approach the concept of social consciousness. As a Zoomer (Gen Z), Elyza admitted that she sometimes finds it a challenge to communicate her values and beliefs with her parents. "Since I was 10, I've had a passion for marine life and conservation. But every time I tell my dad about it, he would say it was unnecessary. Instead of giving up, I continued to engage in conversations with him about marine life, and lately, because he's experienced the increasing heat in Singapore, he's also started talking to me about environmental conservation," she said.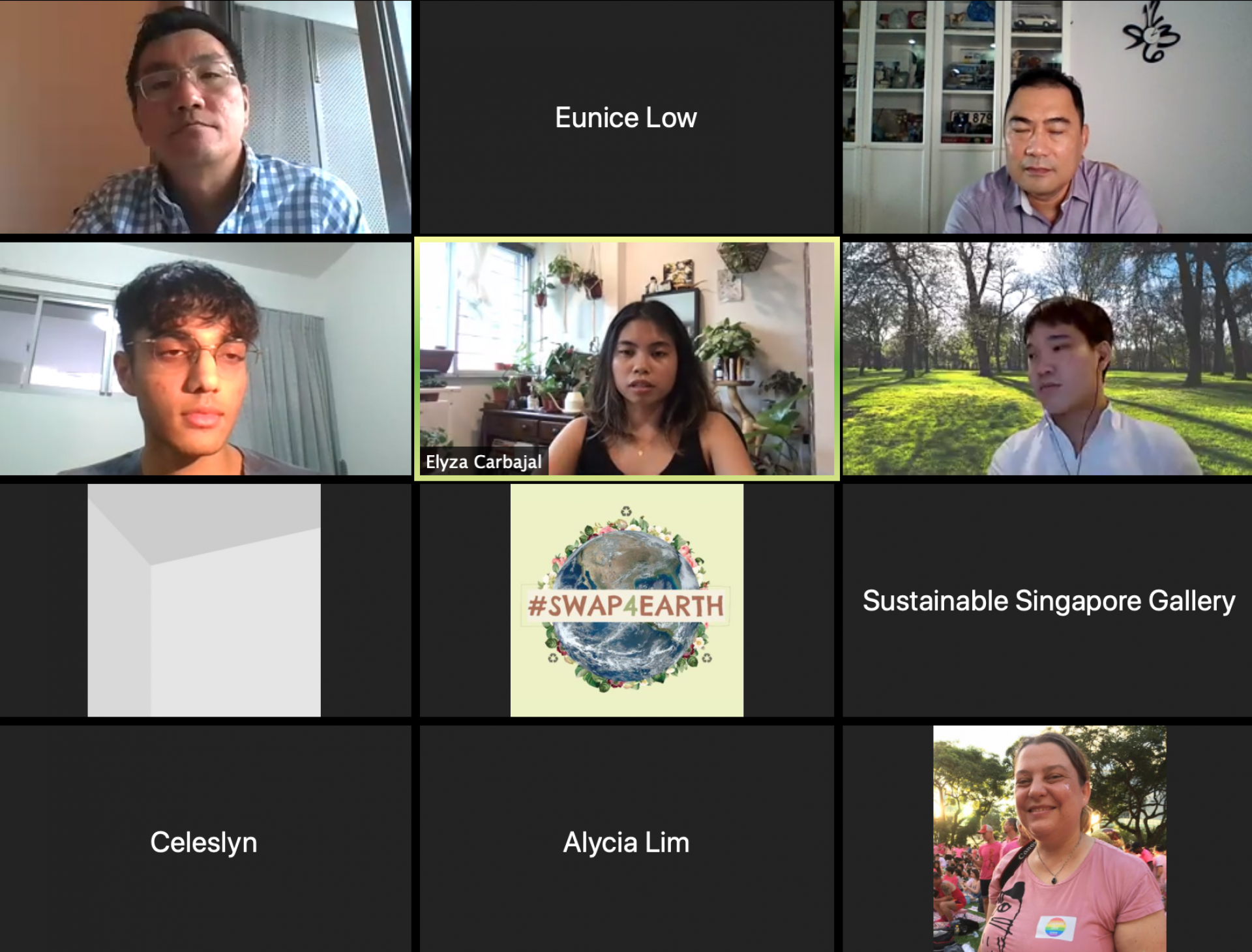 At the same time, Elyza said that she understands where her parents are coming from: "My parents worked hard to give us the comfortable life we live today. They did not come from privileged backgrounds, and they were told all their lives that success is defined by the things they have. It's a mindset of survival—and rightfully so—but it also means that when I share my passion for preserving the environment, it has to be a continuous one, until they eventually make that mindset shift." She said that while there may be a lot of head knowledge around the issues, there needs to be more empathy. "We need to realise that every decision we make does make an impact on another life, of someone somewhere."
To this point, Frederick added, "Many people in my generation question the younger ones when they talk about things like reusable straws, but then they would leave the fan and air conditioner on for hours after leaving a room." He explained that while older people share the same desire to save the Earth, the different approaches they take may not resonate with the youth, and the way a message is communicated between the two generations can also cause misunderstandings. He suggested a beach clean-up with one's family as a useful activity. "It can be a good way to bridge the gap between generations, and family members can spend time together while working towards a greater cause."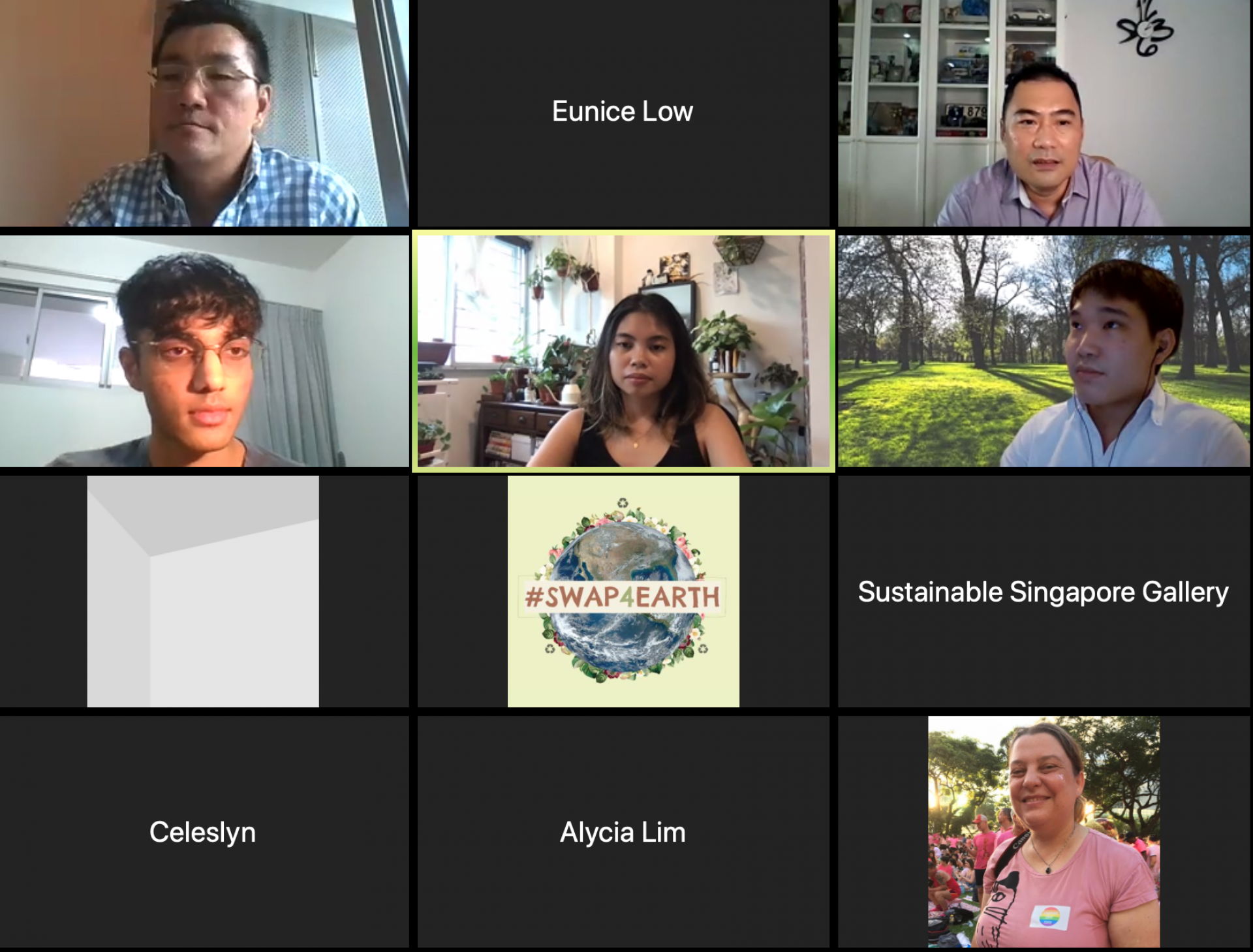 Following this, Sikai shared his view that change begins from having open and honest conversations. "I think at the end of the day, people just need to be kinder to each another, because that's when they will begin to really listen to each other," he said. "If we speak honestly and freely about igniting change, we'll know we are on the right track."
Top image via Unsplash.