Changemakers' Café - Reimagining World Cities
Seminars and Conferences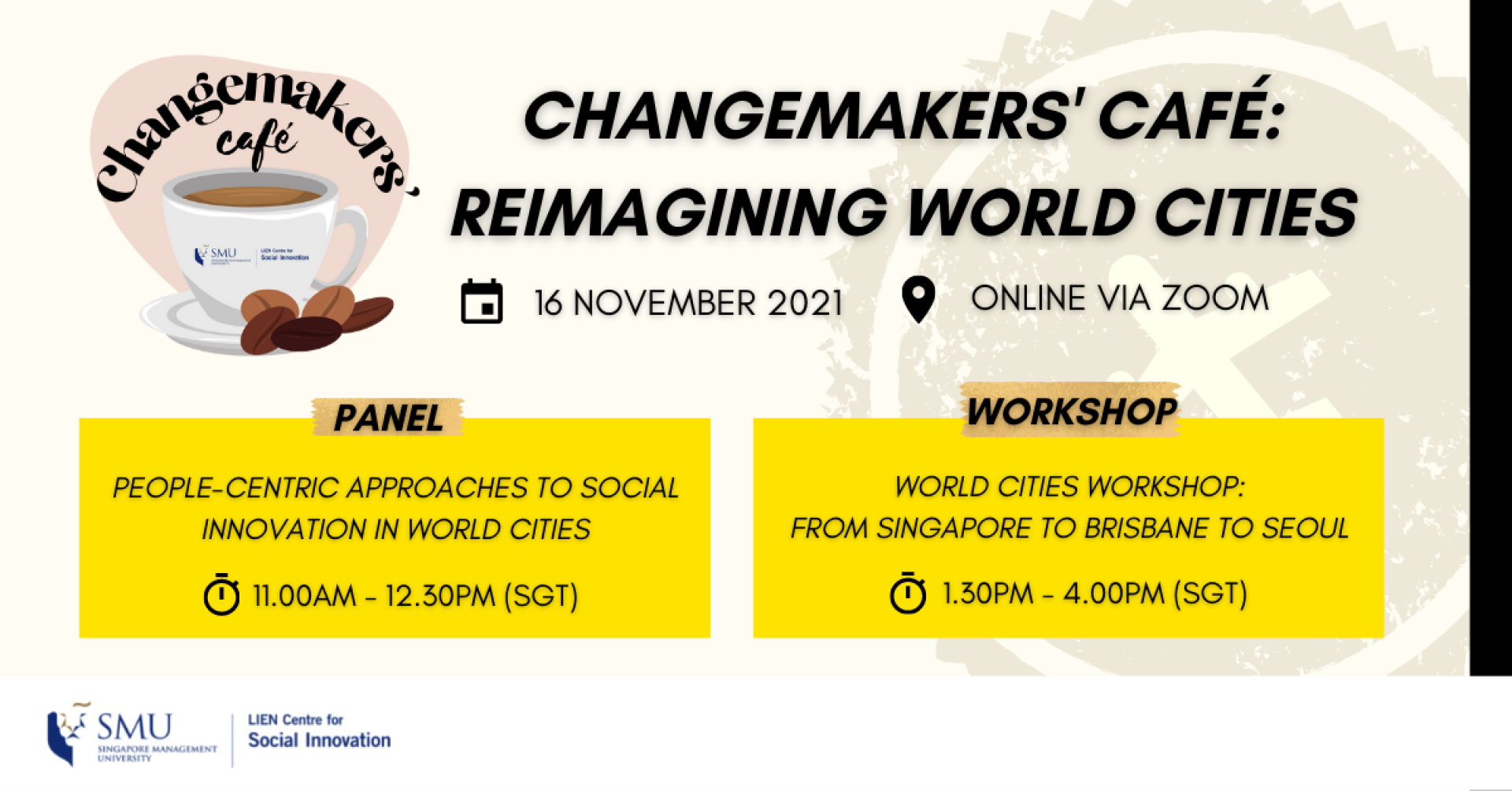 Urbanization is commonly regarded as a sign of progress for many developing countries primarily because they provide spaces for various forms of industry to develop. While these opportunities create significant financial opportunities and jobs for people living in urban environments, industrial concerns must be properly balanced with concern for the well-being of residents. In many developing cities in the region such as Bangkok and Jakarta, the presence of industry creates numerous problems such as pollution, congestion, noise, and overcrowding.
Moreover, consideration for the comfort, quality of life, and social needs of those living in cities take a back seat to economic interests of businesses. For example, in Bali, an island that is renowned for its natural beauty, urbanisation resulting from tourism growth has contributed to an uglification of the physical environment and the degradation of the traditional culture--things that attracted visitors to Bali in the first place. It is actually possible to drive for 45 minutes from the airport to Ubud (Bali's cultural hub) and not see a rice field because there are rows of businesses situated along the road for miles. There are few parks for children to play. In some places, there are no sidewalks and individuals walk in the streets. Persons with disabilities are unable to get around. Shoddy construction of buildings and the exposure of electrical wires are an eyesore for residents.
While "world cities" are financially more well-endowed and able to do a better job of ensuring a decent quality of life for its residents, they are also financial hubs that inevitably prioritize business and economic needs over the needs of residents. How might social innovation play a role in making world cities more livable for its residents? How can residents living in world cities have a greater sense of place? How might communities in world cities grow and develop in a way that nourishes individual spirit? How can urban design be more thoughtful and inclusive of its residents? How might development be more compassionate and less oppressive? These are questions we seek to examine in our upcoming Changemakers' Café.
This event will showcase people-centric approaches to social innovation in three world cities--Singapore, Seoul, Brisbane. The first hour consists of panelists involved in policy-making, community empowerment, and urban design from the various cities. The second and third hours will invite students/public from different parts of the APAC region to interact with each other, learn about a selected world city, and brainstorm and discuss possible innovations that consider the cultural values and needs of city residents. We envision a fun-filled day where individuals can share about their locales and provide persons living in other locales unique and interesting perspectives and possibilities to consider. We also seek to provide resources and opportunities for individuals to further explore changemaking and social innovation that will further professional and personal development.
Save the Date!
Date: 16 November 2021
Time
Panel: People-Centric Approaches to Social Innovation in World Cities
11.00AM - 12.30PM (SGT)

Workshop: World Cities Workshop: From Singapore to Brisbane to Seoul
1.30PM - 4.00PM (SGT)
Venue: Zoom (link to be provided closer to the date)
Registration for the event has ended. If you are interested in the contents covered in the event, head on over to our Social Space Magazine for the full webinar.