Partnership Accelerator: A platform for collaboration towards achieving Sustainable Development Goals
Friday Mar 26,2021 | Social Innovation
The world needs help. From poverty to climate change and sustainability, there's no better time to take collective action to save the only earth we have. This is why the United Nations developed its Sustainable Development Goals (SDGs), 17 targets to shepherd global action to reduce extreme poverty by 2030.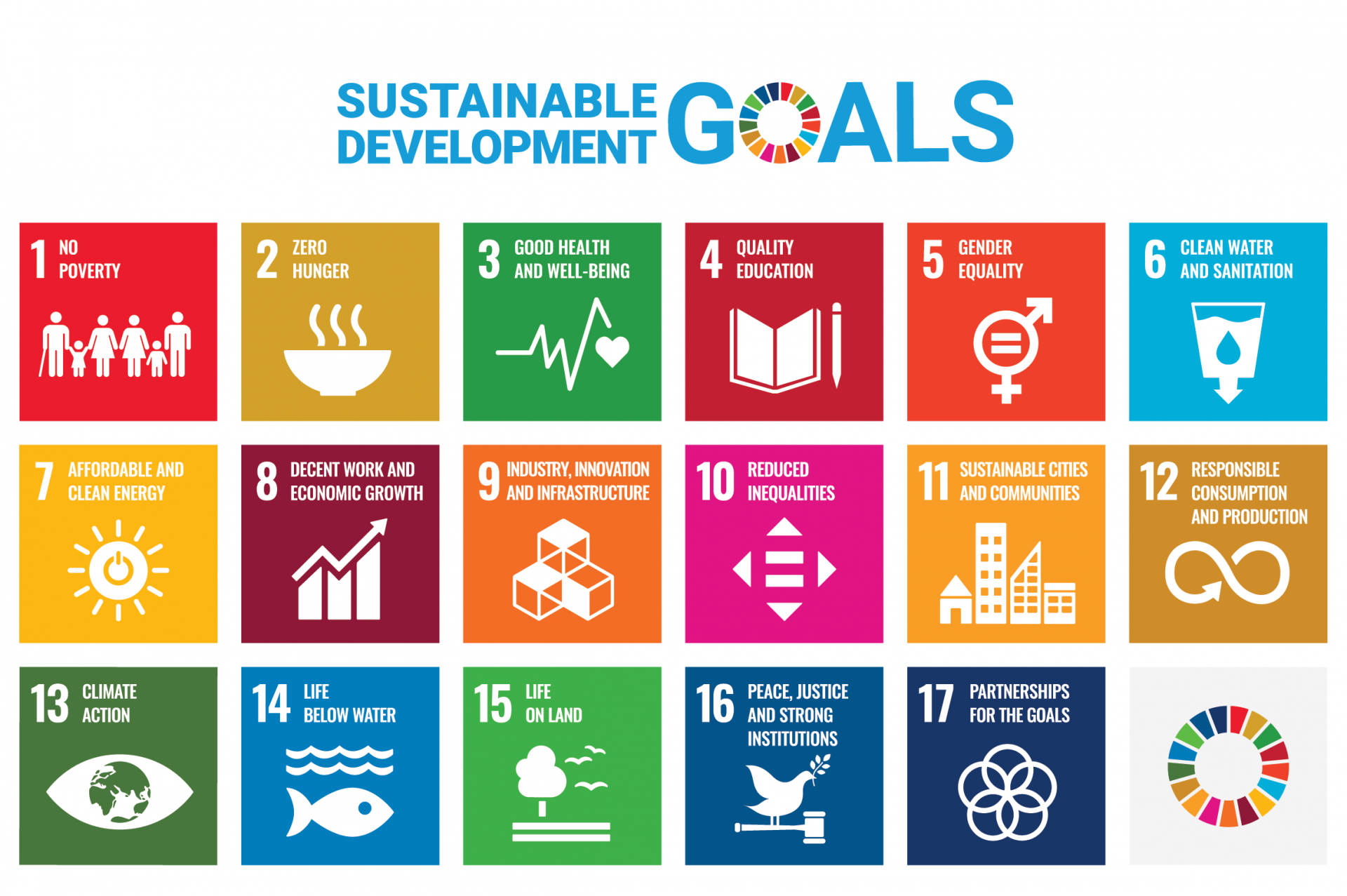 Image taken from https://sdgs.un.org/goals
The collaborative pursuit of these SDGs have to happen at a local level, as well as at a national level, to fully achieve them. To help leaders around the world on this mission, there's goal number 17, which is Partnership for the Goals. This goal seeks to engage the unique roles and resources of different sectors of society for extensive collaboration. How does this happen? A significant movement has rolled out across the world to build both national and local level platforms to facilitate opportunities for learning, sharing and brokering new partnerships. These 'Partnership platforms,' allow key stakeholders a gathering place to share their best practices, while respecting each other's differences, and find ways to make these differences work for them.
Types of stakeholder engagement platforms:

According to the Partnership Accelerator, there are four overarching types of platforms, namely dialogue, knowledge exchange, reporting and standard-setting, and transformative partnerships. The infographic below highlights the key roles of the individual platforms: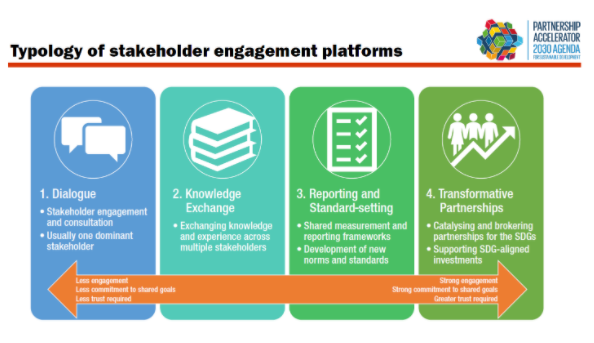 Image taken from TPI / UNDESA
Why is partnership so important?
The saying, "we don't know what we don't know" could not be truer. We face different challenges in different parts of the world, and the best way to really understand them is by hearing from people who experience them first-hand. This is where partnership has the power to bring together a group of like-minded individuals with different backgrounds and experiences, but who are coming together for a common good. When people come together and openly discuss and share their wins or adversities, a collaborative advantage is created. Sometimes, we may hear of ideas, lessons learned and solutions from others that we may have never heard of or even considered, and these provide ripe fruit for picking. We may be able to adapt these to our own situation.

The 2030 Agenda Partnership Accelerator is a collaborative initiative of the United Nations Department of Economic and Social Affairs (UN DESA) and The Partnering Initiative (TPI), in collaboration with the United Nations Office for Partnerships, UN Global Compact, and the UN Development Coordination Office.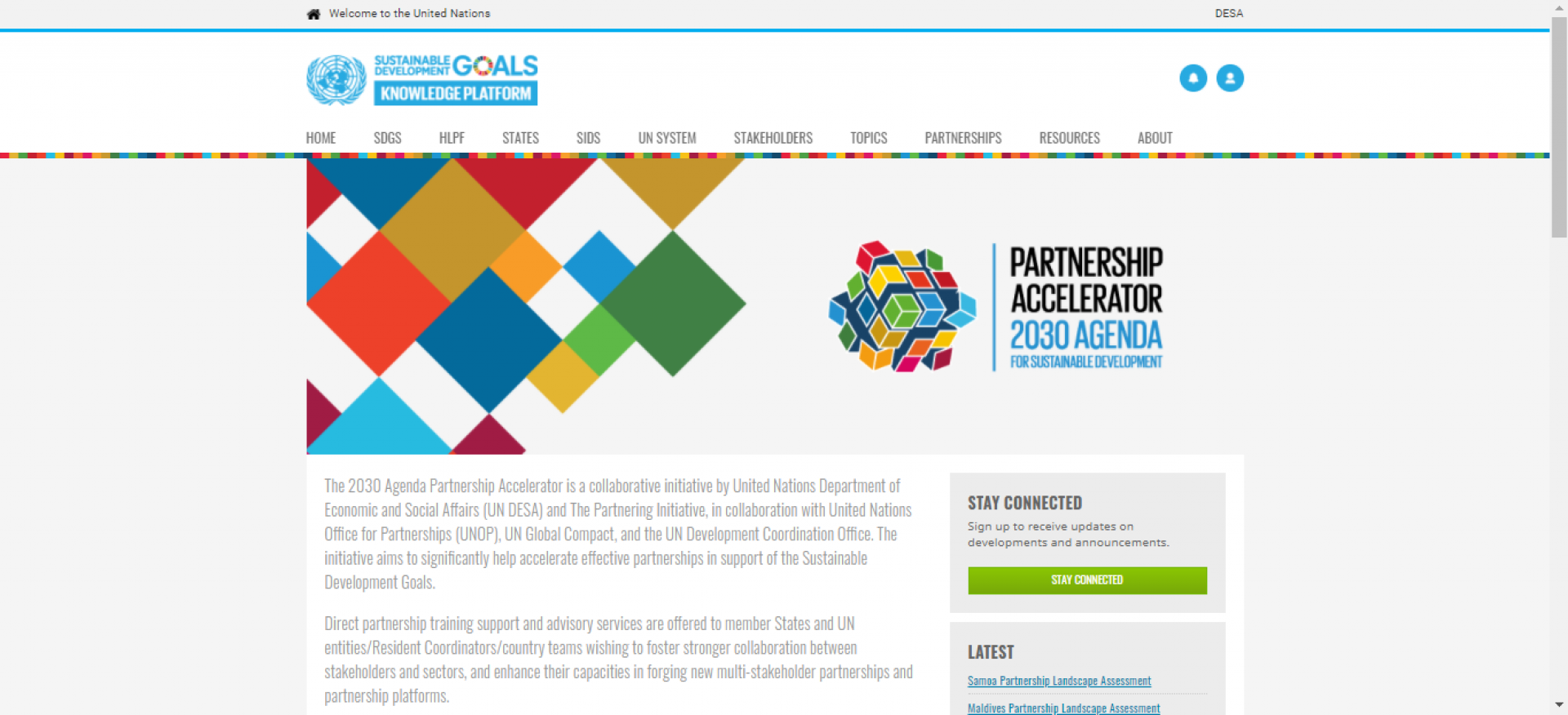 Screengrab from the 2030 Agenda Partnership Accelerator webpage
The Lien Centre for Social Innovation (LCSI) had the privilege to moderate this second global webinar, titled, "Partnership Platforms - National Mechanisms for advancing SDG implementation" where LCSI Executive Director Christy Davis spoke to Regina Macari Ponce, 2030 Agenda Coordinator at the Government of Yucatán, Mexico, Hannah Janetschek of the German Council for Sustainable Development in Germany, Arif Neky, Senior Advisor, UN Strategic Partnerships Coordinator, UN RC Office in Kenya, and Uchita de Zoysa, Executive Director for the Centre for Environment & Development in Sri Lanka.
The hour-long session was impactful, energetic and filled with great insights as the panel shared their unique issues pertaining to their four very different countries around the globe.
These four change leaders from four very disparate contexts - Mexico, Germany, Kenya and Sri Lanka - exhibited the characteristics the Partnership Accelerator research team has identified as key enablers for an effective platform. The characteristics are defined as:
A dynamic leader
Strong champions
Entrepreneurial management
Risk-tolerant hosts
Adaptable business model
Flexible support systems
Strong connectivity
Investment in enabling environment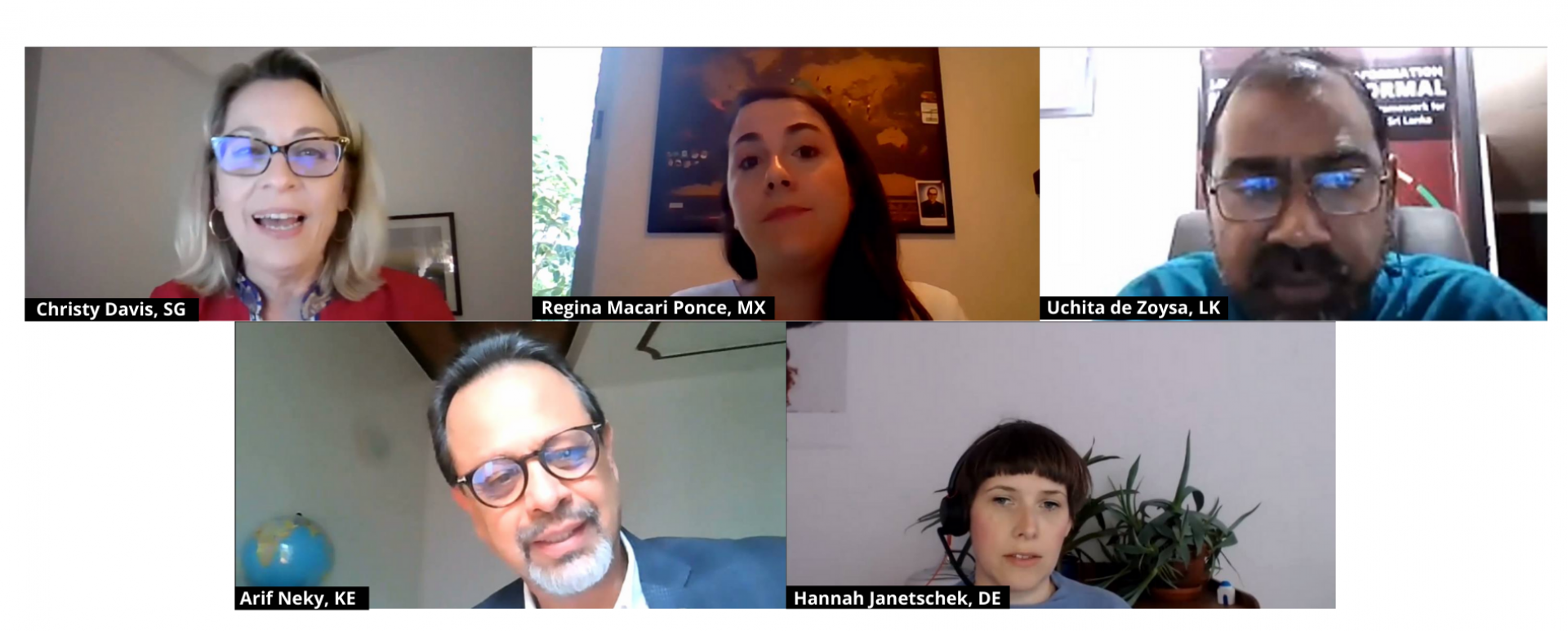 Screengrab of the Partnership Platforms - National Mechanisms for Advancing SDG Implementation Webinar Panelists
Unique solutions to unique challenges
As each panellist gave a short presentation about their national partnership platform, it was clear that every country had their own challenges and solutions to tackle them.
Ponce, who runs the council that serves as a monitoring and decision-making body for the follow up of the SDGs and multi-stakeholder dialogue, shared the importance of having a multi-stakeholder platform that includes university students, and how that has worked well in gaining the trust and support of the public in Yucatán since trust in the government has been one of the greatest challenge in the state. She shared the impact of the work they've done during the pandemic, and how these multi-stakeholder communities also play a huge role in the success of the state council for the 2030 Agenda.
In Germany, Janetschek from the German Council for Sustainable Development (RNE) shared the work they've been doing to change the mobility and agricultural systems towards more sustainable, long-term pathways. As she explained, the RNE's role acts as a compass to help the German government navigate a complex decision-making process involving multiple stakeholders, with a clear vision: to make sustainable development a public issue of vital importance.
In Africa, Neky highlighted the importance of healthcare, food and nutrition in Kenya, a country where the average age is only 19. As a country in need of healthcare aid and developmental funding with 40% of its population living below the poverty line, Neky expressed a need for the private sector to converge to create a concrete ecosystem, bringing together multiple stakeholders that can go beyond short-term political lifecycles.
Closer to home, Zoysa expressed a need for the younger generation in Sri Lanka to step up into leadership, and have a more inclusive process in managing the SDGs. He shares that while civil society used to be guardians of sustainable development, it has now fallen into the hands of the government. The Sri Lanka Stakeholder SDG Platform was designed on the objectives of inclusive transformation and independent monitoring evaluation, but the country now needs to develop a clear roadmap and financing mechanism at national level.
With such a wide range of topics discussed, it's clear that the panel session was only the beginning of so many opportunities to share great, transformative, insightful work taking place across the world. As the Partnership Accelerator webinar series continues to surface these challenges and connect relevant stakeholders, it is hoped that these leaders learn from each other, and implement new changes back in their local communities.
LCSI is a strong proponent of multi-sector partnerships and intentional collaboration. We believe that by working together to pool our strengths and resources, we can better tackle the "wicked" problems of the world today. We want to act as catalysts for positive change in people's lives and the systems that seek to support healthy societies.