COVID-19 and a New Appreciation for Mobility
Friday Oct 30,2020 | Social Innovation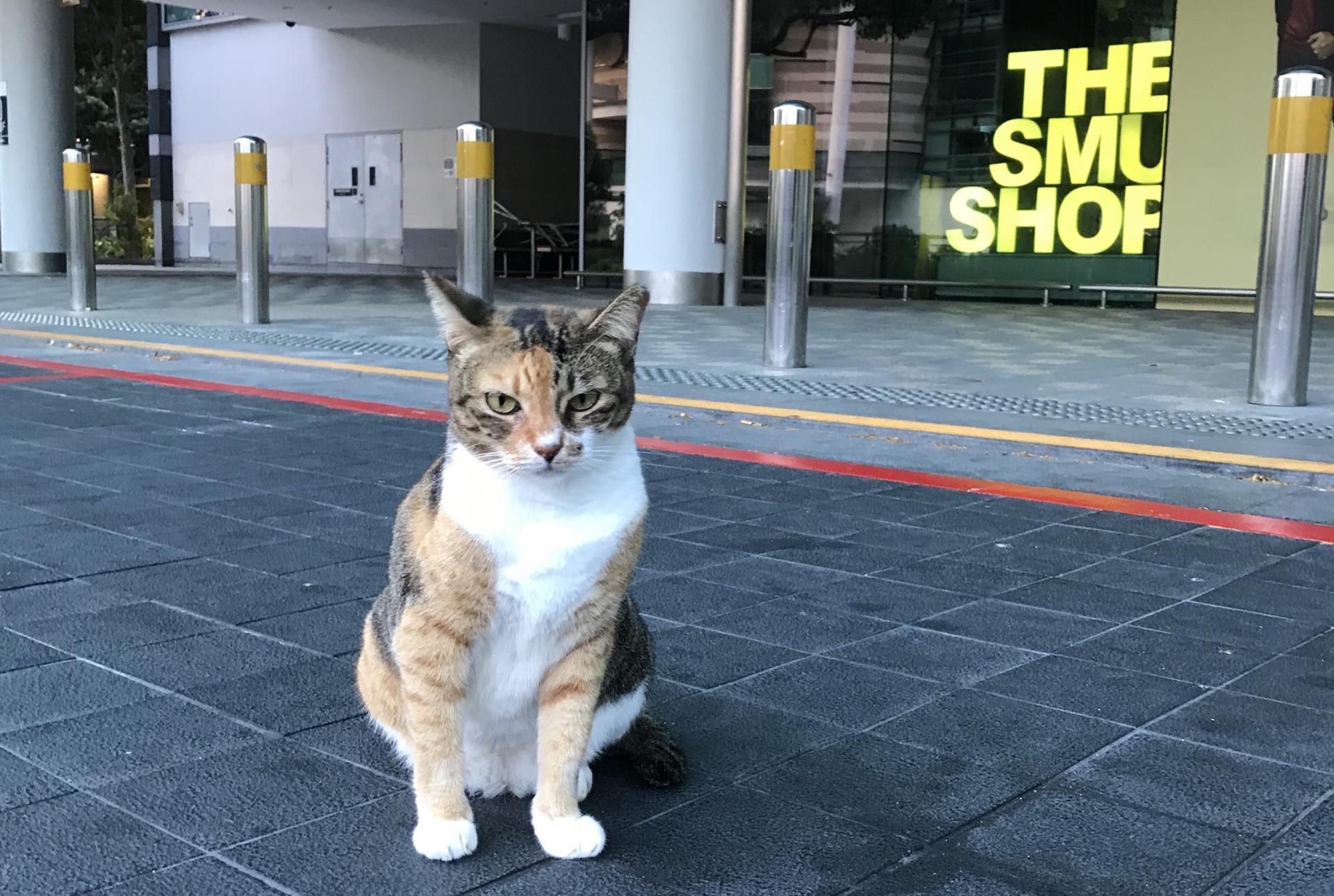 By Ho Han Peng
The COVID-19 pandemic and Circuit Breaker from April to June this year got me thinking about the boundaries of mobility. Travelling to work and meetings, taking lunch or coffee breaks, running errands, meeting up with friends and family—these planned or spontaneous movements are typically and unquestionably normal. Yet all that changed as movement was reduced nationwide in the government's strategy to stem the spread of the virus. Although nothing of the scale of wartime curfews, the advisories relating to movement and safe distancing spelled indefinite changes to the rhythm and flow of life.
Modifying the circuit but staying on track
Fully working from home was initially refreshing, a time-saver thanks to teleconferencing; but this arrangement veered towards boredom as I felt a growing monastic vibe in my tiny flat. When faced with thorny problems, I take to the Latin concept of solvitur ambulando—literally, "it is solved by walking"—through walks around the SMU campus to pace out my thoughts. With the movement reduction advisory in place, and "campus" turning into my 100-square-foot living room, such thinking-walks needed to be reconsidered. And so did my appreciation for the freedom of movement I've enjoyed for so long.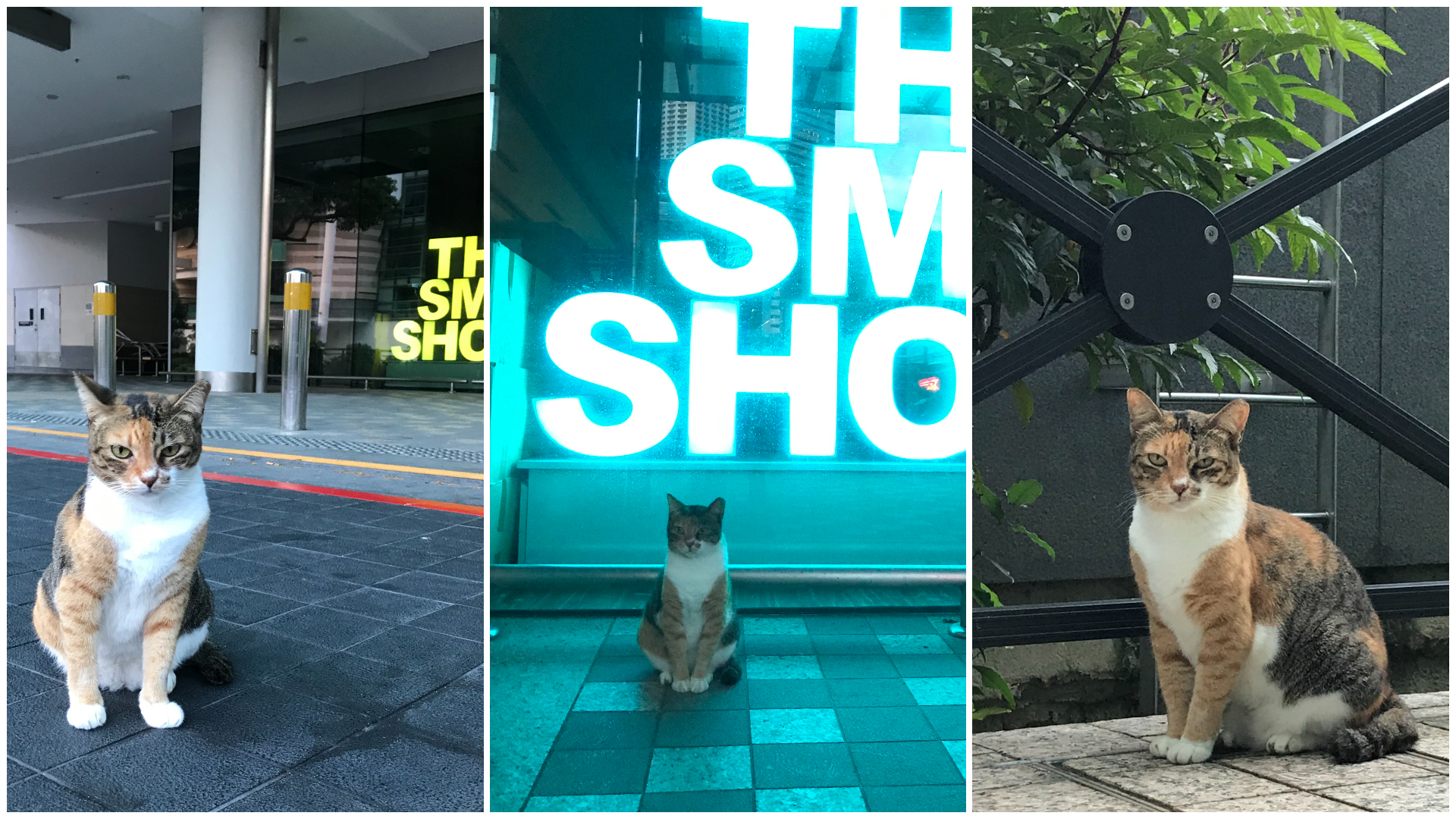 A symbol of dependability, SMU Cat is 90% present when my running circuit cuts through SMU Campus.
If there is a silver lining to the cloud, the societal pause from COVID-19 has led me to distil my routine and focus on the things that mattered. With precious opportunity to be out and about, the extent of my sedentary lifestyle soon became as apparent as my bulging waistline. So I finally decided to take action to improve my fitness, a recurring new year's resolution since the collapse of Lehman Brothers! While I've always had "plans" to work on it, there was no shortage of crass and noble excuses to defer, deflect and procrastinate.
Whether it was mid-life crisis or "pan-xiety", by May I had switched up my running frequency from four times a year to four times a week. To my surprise, the return to regular running transitioned easily without the mind traps of past attempts, in part because it was a good excuse to get out of the flat (relief!), witness the eerily barren streets of downtown Singapore (wonderment!) and appreciate the beauty of our Garden City (pride!). By taking the intrinsically unpleasurable but healthful activity of running and combining it with a stimulating circuit through Orchard Road, Armenian Street, Fort Canning Park, Marina Bay and other city landmarks, it did not at all feel like a chore to get back in shape. In fact, I found it to be mentally and emotionally uplifting.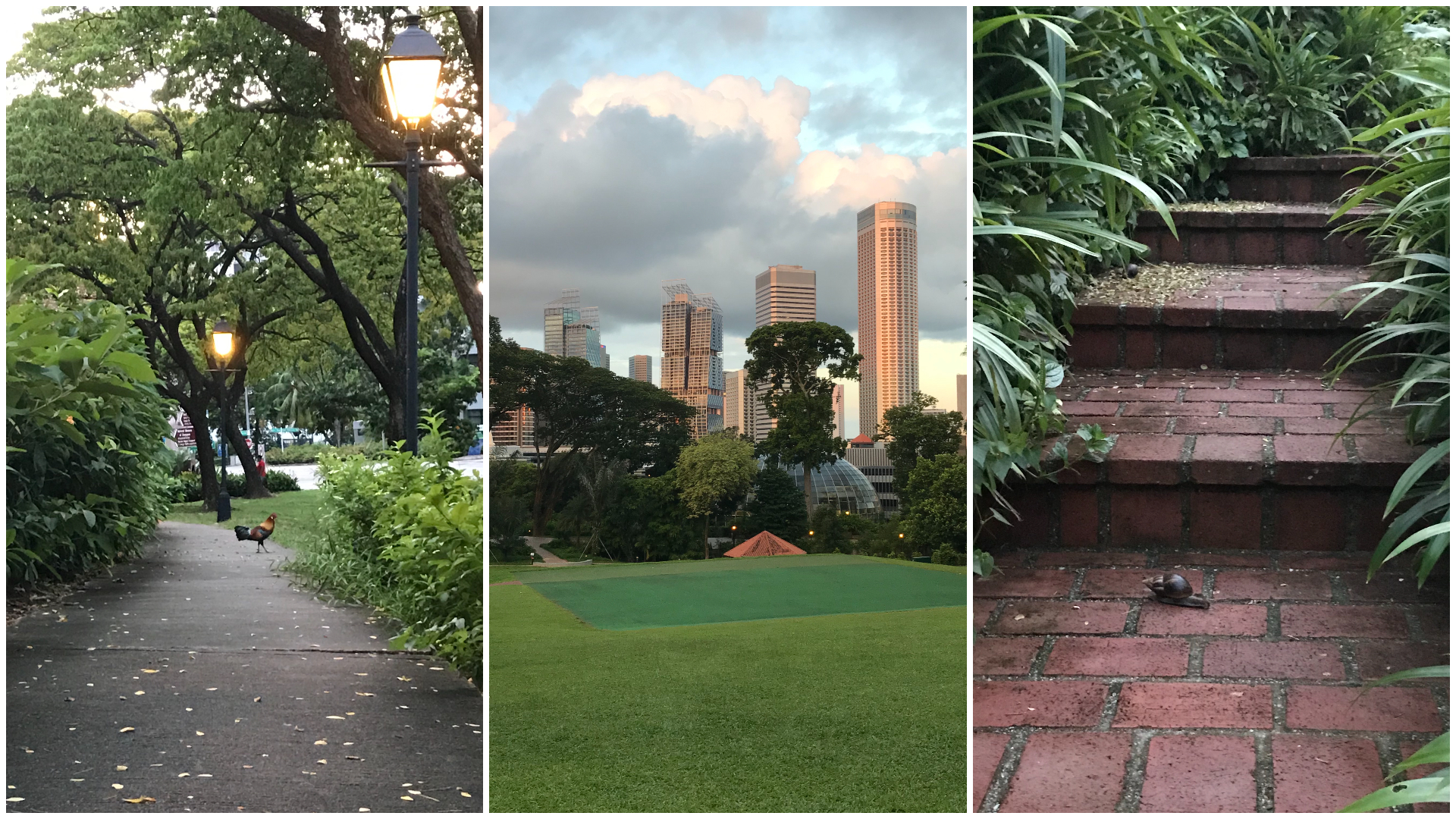 Taking in the sights, sounds and smells of Fort Canning Park, from path-crossing chickens and snails to nesting sea eagles to an enchanted garden of pandan and spice.
New perspectives on change in an uncertain zone
Somewhere in these few months, gradually working out new arrangements has probably redirected whatever anxious energy I had about these uncertain times and led to a series of views on my current situation.
One, there was a refreshing sense of liberation in taking the leap from a sedentary to active lifestyle. The transition into a fitness routine is usually difficult for me, but I found that starting with the enjoyable and attainable helped. The scenic route kept me engaged and the flexibility of my circuit meant I could always extend my goals as stamina improved.
The beautifully restored Art Deco buildings on Armenian and Loke Yew Streets at sunset.
Two, the process of adjusting my thinking-walks to the situation was enlightening. Pacing out my thoughts was still possible during COVID-19, albeit not in the same way. Realising that I could "innovate" by modifying and combining it with my fitness regime suddenly became a no-brainer. I could distil my thoughts without feeling like I had lost yet another cherished activity to the pandemic.
Three, it's the fundamental realisation that I should focus on the things I can change while not obsessing about those I cannot. The economy may be constrained, but currents can still move and life flourishes under still waters. To be able to work around and beyond the apparent limitations of the pandemic engages me, and this perspective has given me clarity of purpose, confidence in self and others, and hope of accomplishment.
If it is human tendency to appreciate the things that matter to us when we have less of it, I have certainly gained new perspectives on personal mobility and life. I wonder, too, what new and empowering perspectives others have gained in this period.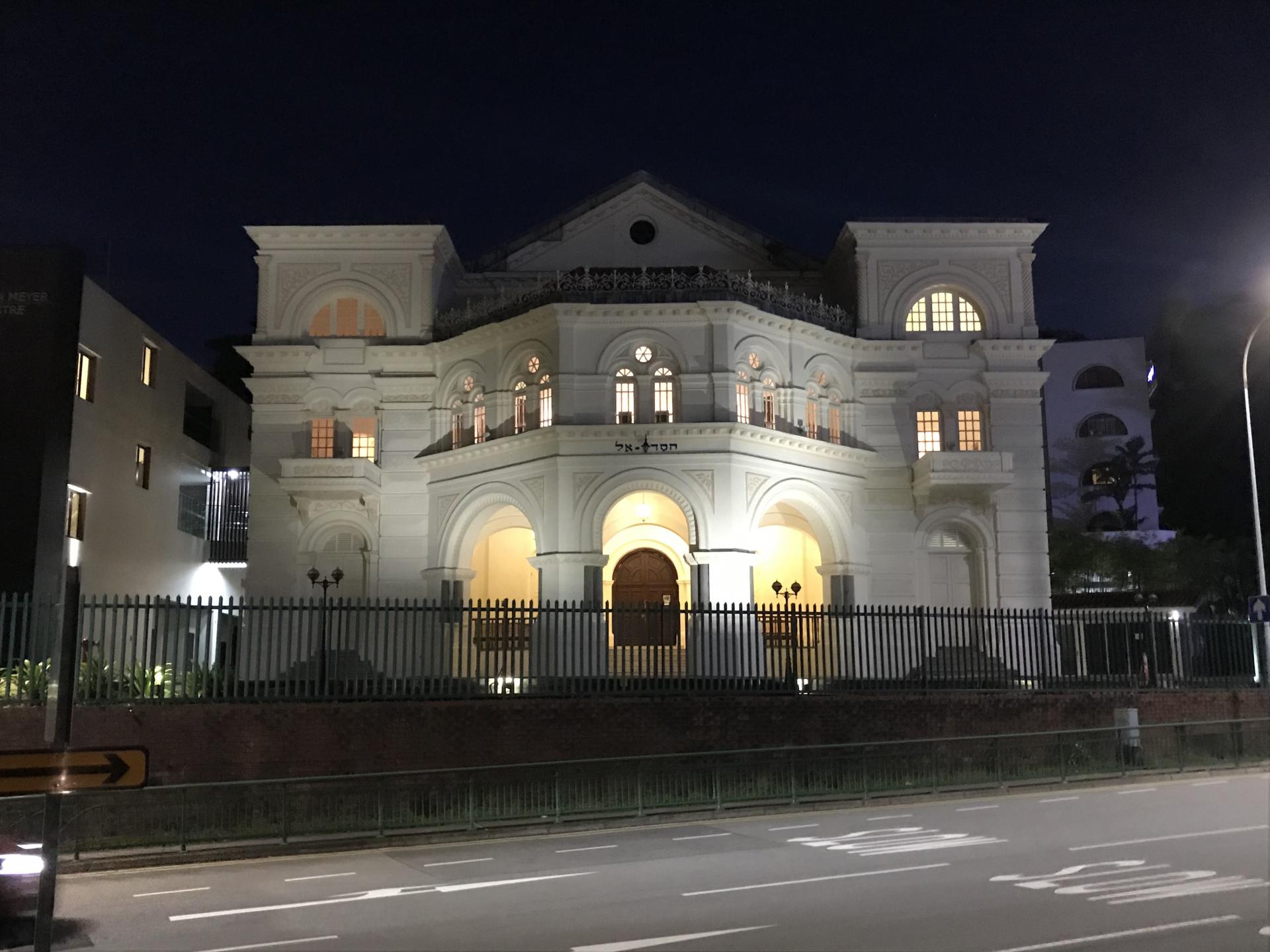 The 115-year-old Chesed-El Synagogue all lit up on the Sabbath
All images courtesy of the author.
---
Ho Han Peng is Assistant Director at the Lien Centre for Social Innovation.