Know Your Glow: This app aims to inspire changemaking
Sunday Feb 28,2021 | Social Innovation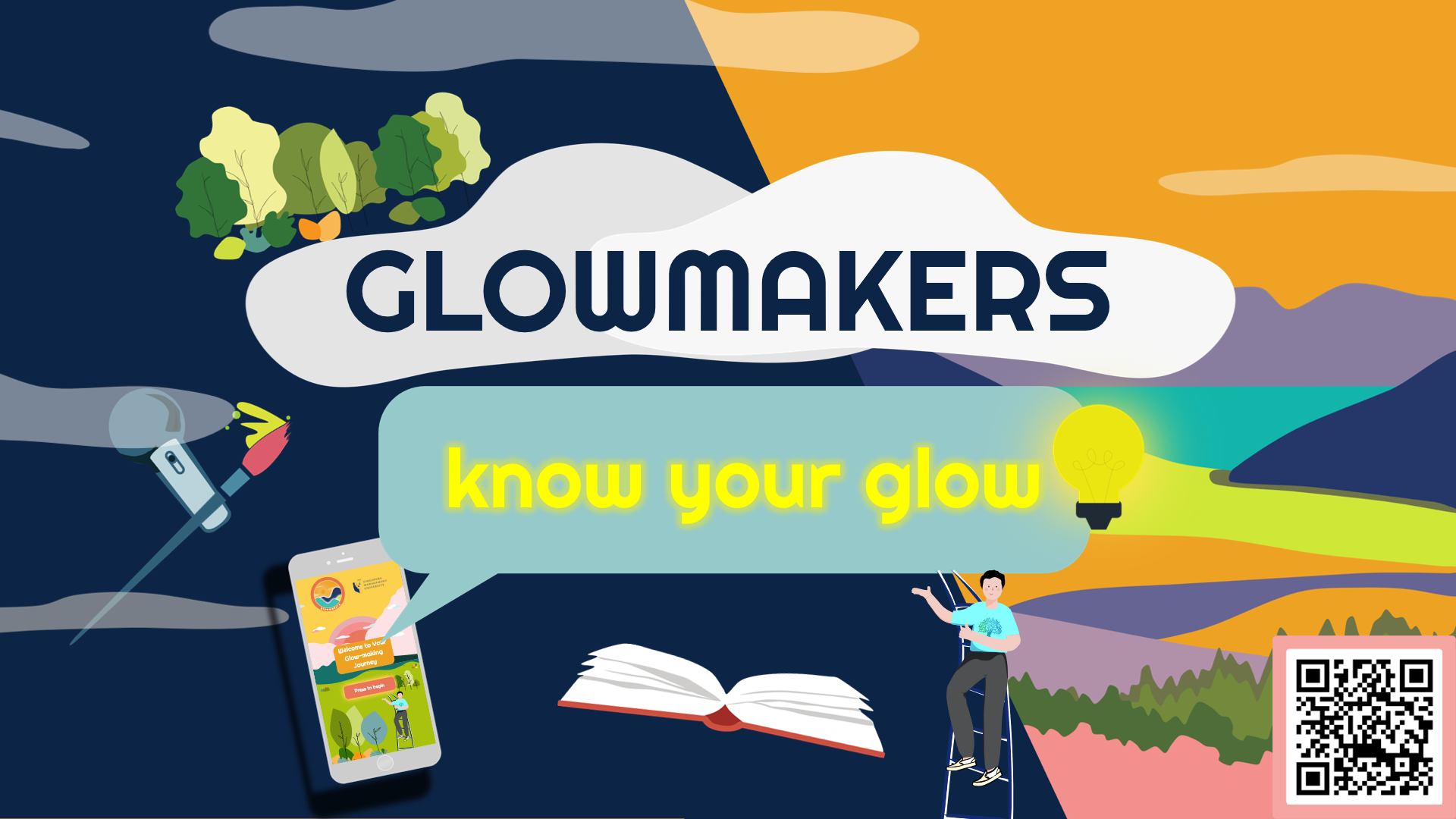 Do you want to make a positive impact in society, but don't know how or where to begin? Perhaps you have a specific skill but aren't sure how to use it for a greater good? This is where the Glowmakers app—a digital questionnaire that takes you on a journey of self-discovery—can help.
Conceptualised and created by Singapore Management University (SMU) undergraduates, the Glowmakers app encourages reflection upon changemaking and how students can create positive change in their lives and in the lives of others. Accessible on both mobile and desktop, it attempts to identify a person's skills and talents, with their interests and the type of issues they care about, for the perfect match.
The inspiration behind this app was a wall mural in South Korea that came about when Lien Centre for Social Innovation (LCSI) Executive Director Christy Davis visited the Heyground Coworking Space in 2019. She noticed a long mural depicting a changemaker journey map on the wall of a co-working space on campus. As one looks at this massive mural, they would notice that it's actually a giant flowchart, with different paths that lead to a different route. They are given yes or no question prompts and the path they take is based on how they answer the question. This fun and engaging idea struck a chord with Davis, and she decided to bring that idea back to Singapore.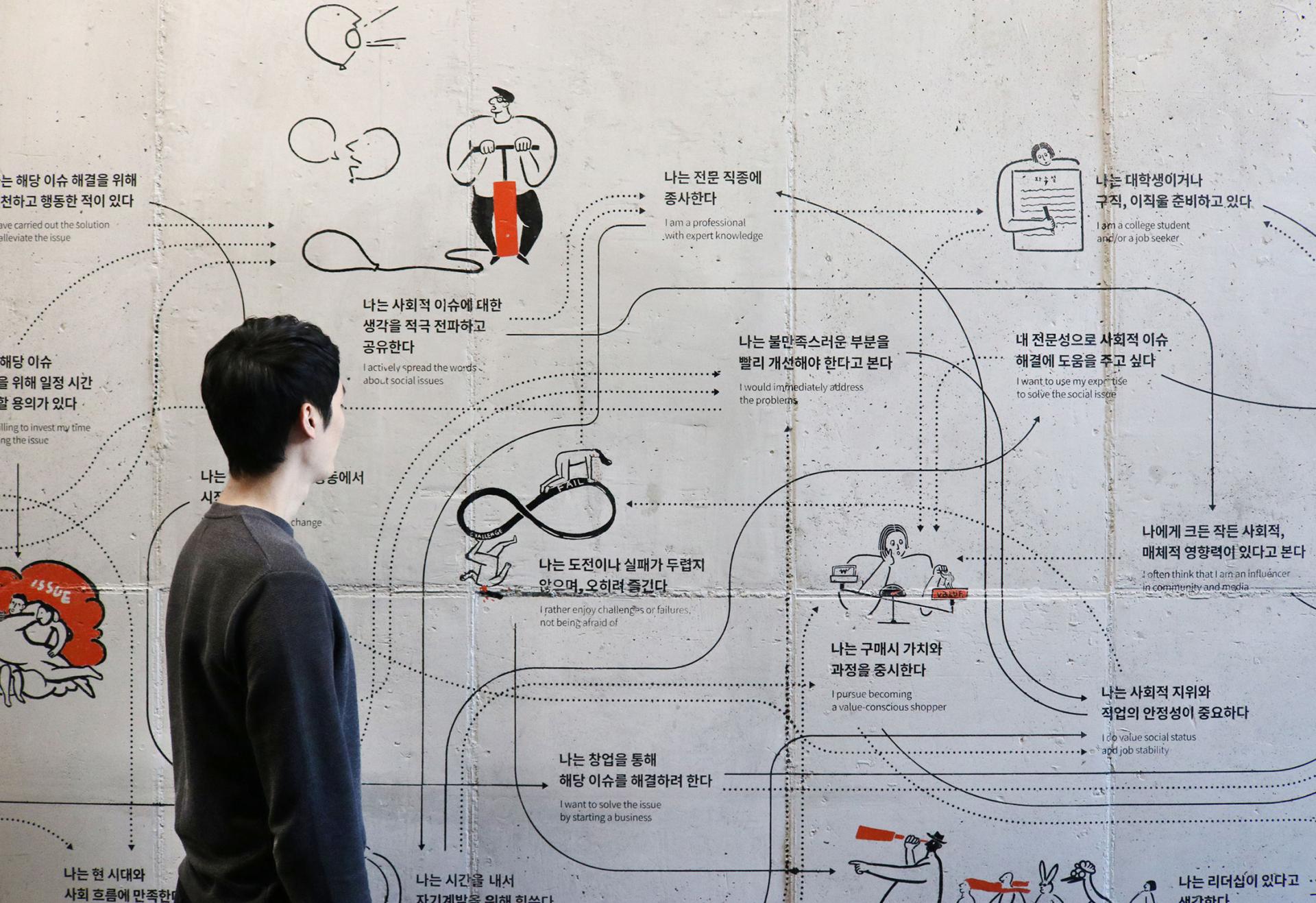 Upon her return, she worked with LCSI Programme Manager Alan Yu to gather a group of students under an event called ARTJAM, and the work began. The students brainstormed to come up with ideas that would help students to reflect and connect their interests and experiences.
Keane Lee, an undergraduate from the SMU Lee Kong Chian School of Business, was one of the students involved in this project from day one. Sharing his experience, he said, "It started as a casual ARTJAM gathering in March 2020. While at first, we thought we would come up with just a few ideas during the short brainstorm, we left with more questions to think about."
Yu added that this session made the team realise the potential of this project, that it need not be limited to a wall mural on campus. "I decided to hire four students from the first session to review the many ideas generated. As a result, we came up with ideas like a spin wheel, creating interactive exhibits in a public area, and using web technology to produce dynamic content that reflects users' interests."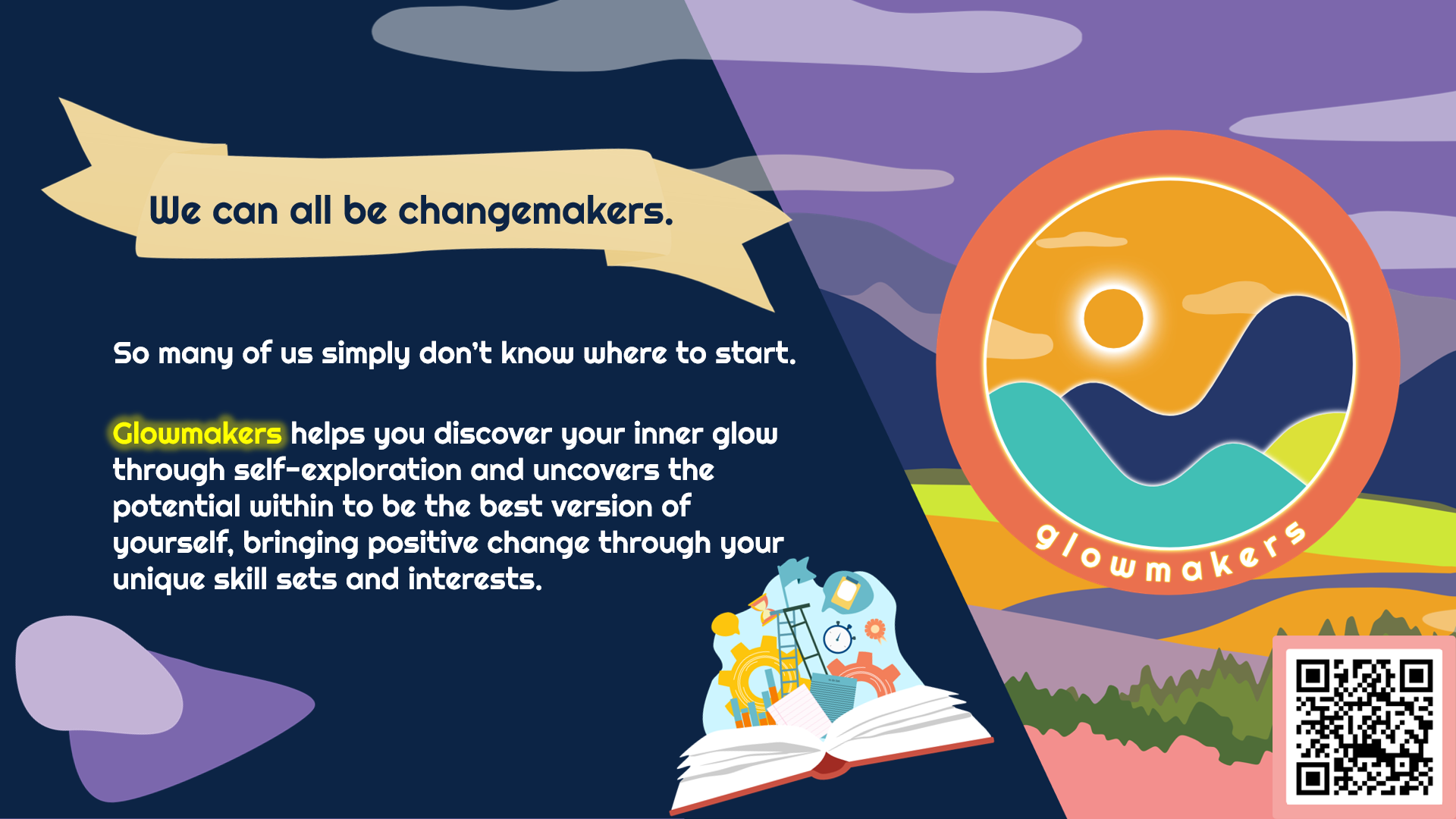 After a few more weeks of brainstorming, the concept of the Glowmakers app was born. The app goes beyond just identifying the changemaking persona of a person, but how they can take action by suggesting things they can do on campus or at home. It even goes as far as suggesting the type of skills a person can develop, or books they can read, based on their changemaking profile.
"While the initial intention was to replicate the Heyground mural in a university context, we came up with much more," Yu stated. "We ended up creating a completely different product that challenged our imagination of what changemaking institutions can do to provoke student reflection on their own education and professional aspirations."
Launched during the SMU Patrons Day which was held online this year, the app caters to anyone who wishes to see how they can channel their strengths, interests and talents towards a social good. "As a way to inspire people to be changemakers beyond the SMU campus, the team decided to build an app that's accessible to anyone, and everyone," said Davis.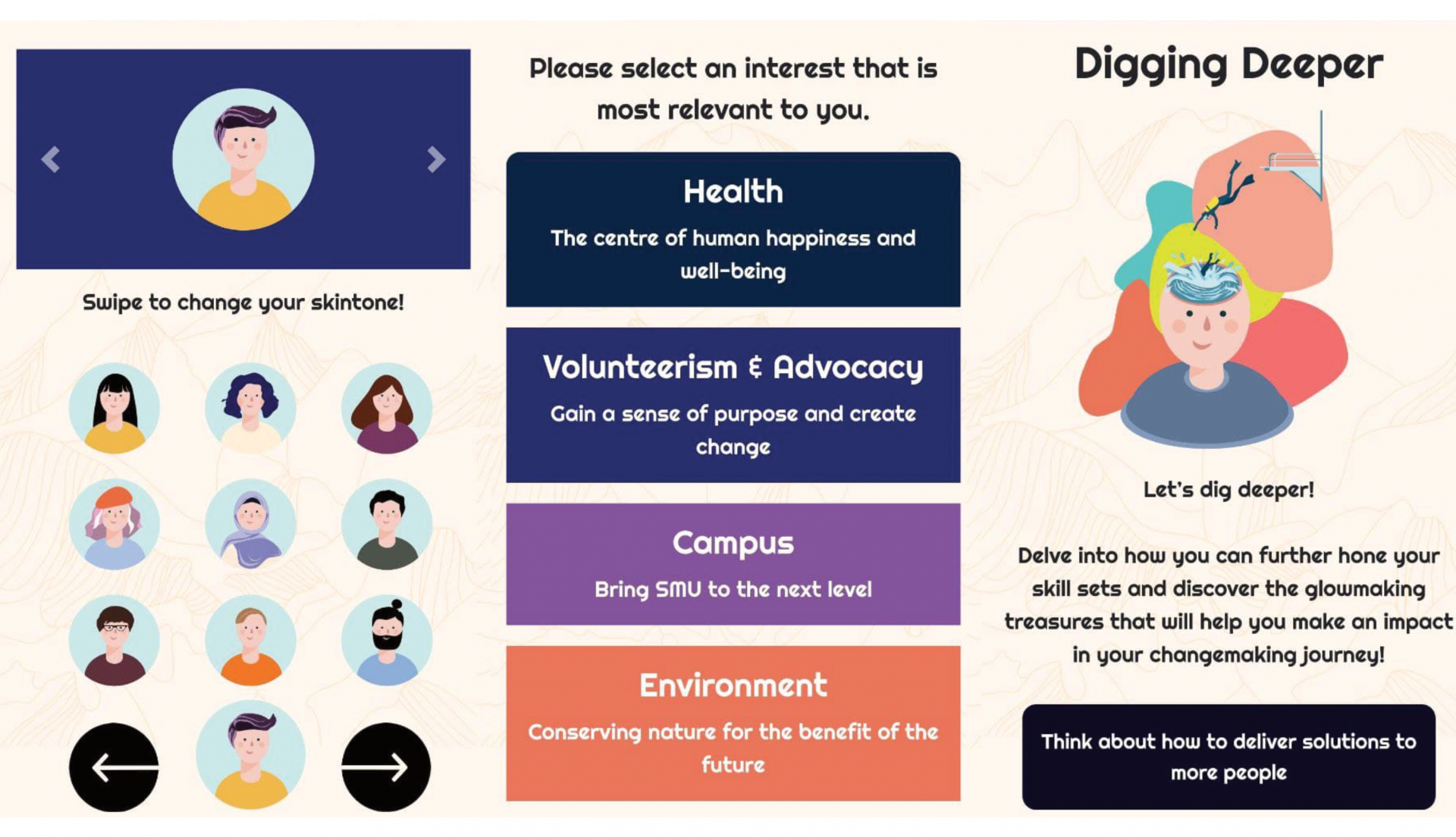 Demonstrating a changemaker attitude with a student-built app
As the first Ashoka U Changemaker campus in Asia, SMU is always working on ways to inspire changemaking in people. Students at SMU are often challenged to think beyond themselves. Finding ways to solve problems, or looking for better ways to do things are part and parcel of their campus experience.
"Everything, from its conceptualisation to the final output, was done by students. Even the questions that were developed for the app, and the outcome, was designed by the core team based on their research and personal experiences as university students themselves," explained Yu. Of course, support was provided where needed. From its initial success, the app will be showcased in the upcoming Global Changemaking Forum in early April 2021.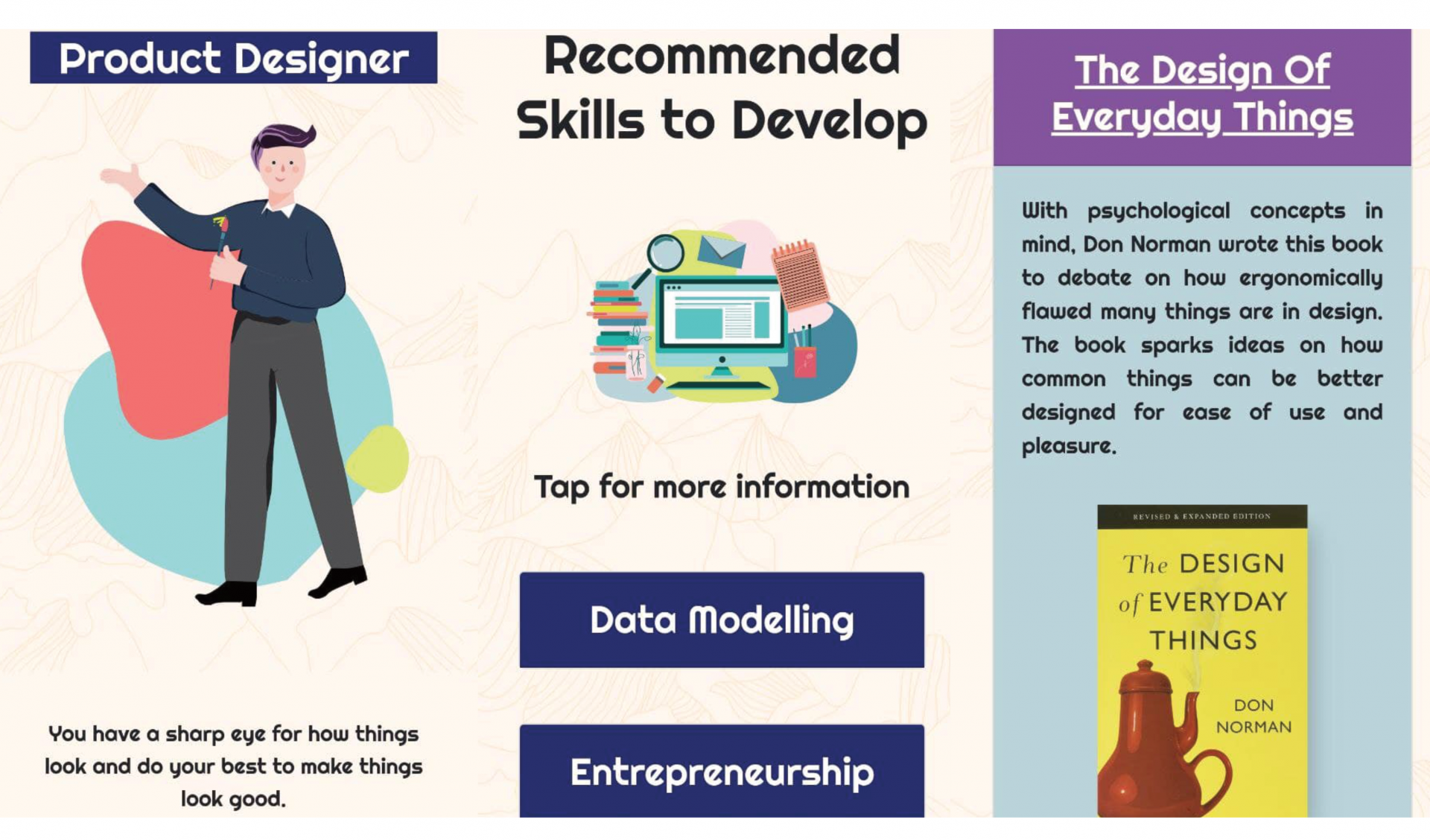 Added Lee, "Personally, I saw this project as a chance to creatively communicate the message to my peers that changemaking starts with us. Anyone can be a changemaker and it can start from anywhere." He said that because the entire team consisted of students, they would often pause for a sense check, asking themselves if the content they were creating would resonate with them, to ensure that they remained in check with the objective of the project. "The project is created for our peers, so looking at the project from an audience's perspective helped."
One of the ways to ensure that the platform was enticing to students was by keeping the design elements fun and engaging. Chen Hsuan Ju, who worked on the design of the app, spoke of her experience trying to give a clean, and youthful appearance to it. "We continuously evaluated our design and colour schemes, working with the UX and concept development team to ensure that element was in sync with each other."
As a Bachelor of Accounting student who learned design on her own, Chen stated that one of the biggest challenges was coming up with the visuals from scratch. "I spent quite a lot of time watching YouTube videos to learn how to do certain things, particularly in creating the video which was part of this project. It was a lot of hard work but very fulfilling when we finally completed it."
Lee agreed, adding that while the app may not be entirely foolproof, it serves as a starting point for students to get started on their individual changemaking journeys.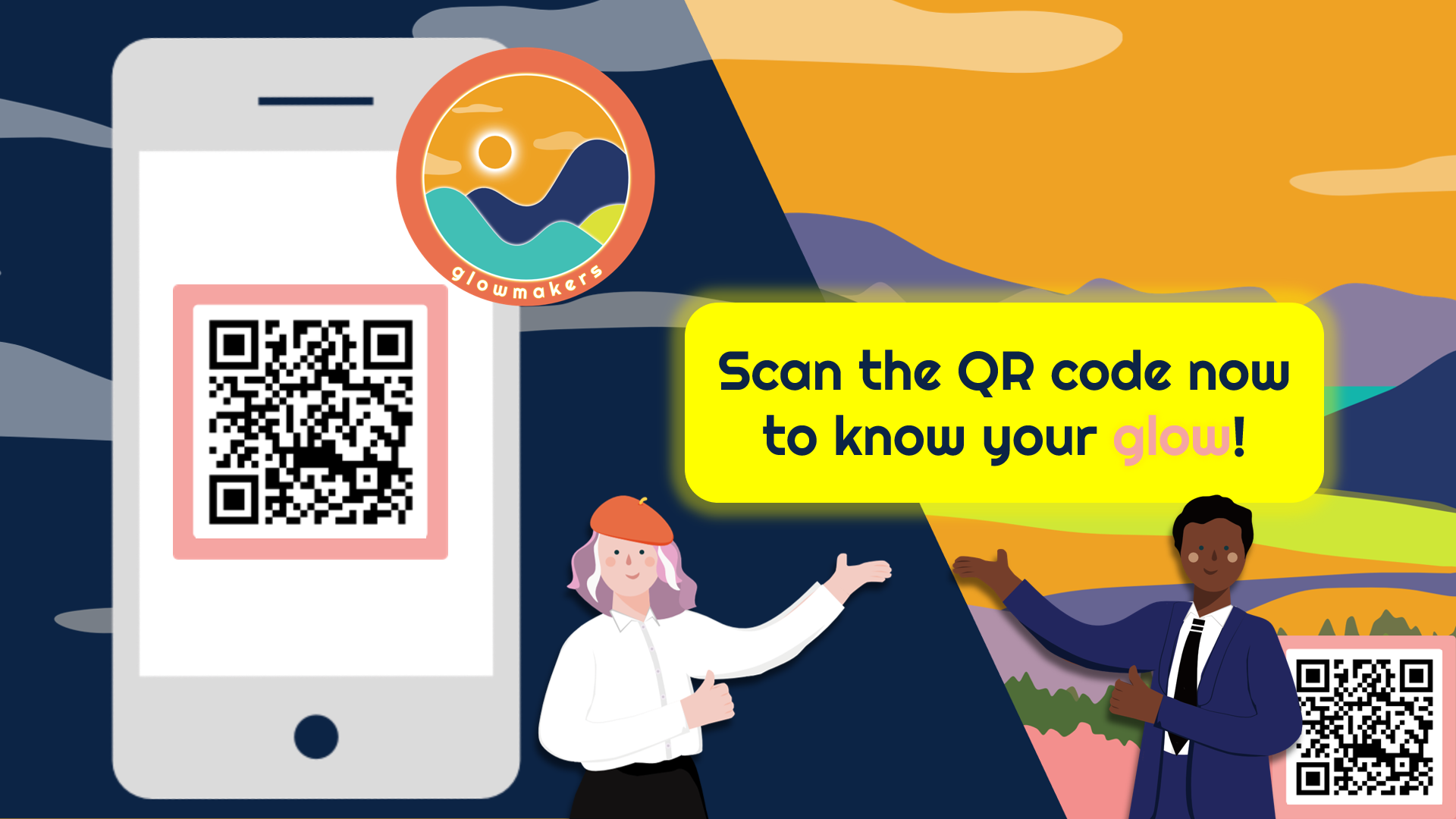 An app you can revisit
For Yu, perhaps one benefit of the Glowmakers app is the fact that it remains evergreen. He said, "Students may use the app as many times as they want and may consider trying it again as their interests and abilities change over the course of their time at SMU."
So if you're still thinking about how to put your skills to a good cause, be sure to check out this app.