Lotus Initiative: Human-Centred Design Workshops in Nepal
Tuesday Jan 07,2020 | Lotus Initiative
2019 marked an exciting new partnership for social innovation between the Lien Centre for Social Innovation (LCSI) and Lotus Life Foundation Singapore (LLF). Together with Avsar, LLF's sister foundation based in Kathmandu, we kickstarted the five-year Lotus Initiative (LI) to improve the livelihoods of a rural community in Nepal. Located in the hills of eastern Nepal, Sahidbhumi is a village of 18,500 that faces natural, infrastructural, human capital and market obstacles.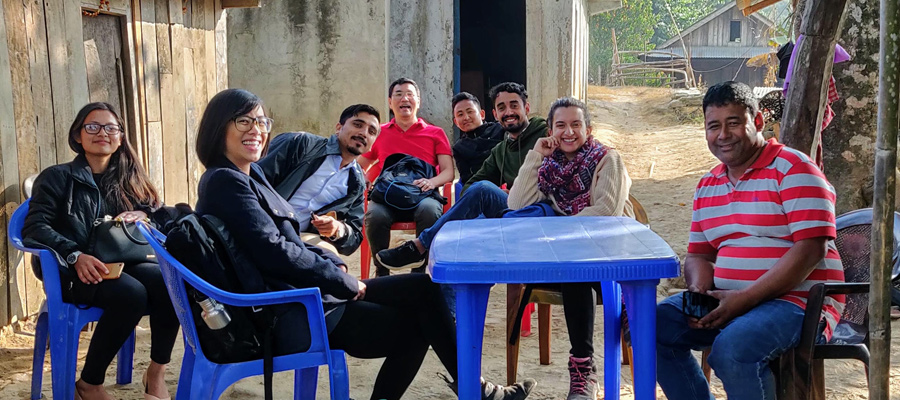 Rooted in principles of human-centred design (HCD) and evidence-based capability building, the project uses a multi-phased approach in its ambitious attempt to develop a model village with potential to positively impact the lives of that community. The HCD process facilitates solution development to problems by involving the human perspective in all steps of the journey—and this includes the people of Sahidbhumi themselves. Together we aim to co-create solutions to daily challenges that the villagers experience first-hand.
Human-Centred Design Workshops
The project's focus in 2019 was foundation building, specifically in the need to understand the strengths, pain points, dynamics and opportunities within the community before designing and implementing programmes of any impact.
Before proposing any solutions, the LI team engaged the community for insights on its perceptions, attitudes and behaviour related to economic decision making and practices. Then taking the problem statements co-developed with the community, the LI team further contextualised them by speaking with ecosystem stakeholders, including rural-based organisations, public sector agencies, craft associations, and others. With the villagers, the LI team subsequently developed several prototypes through ideation workshops, held in public spaces for ease of access. Different engagement modes were employed that targeted 4 major issues:
Farming Practices (Roundtable): Small group solutions-driven discussion on the state and effects of current farming practices and alternative farming solutions (e.g. organic pesticides)
Water Scarcity (Roundtable): Small group solutions-driven discussion on how different community segments (youth, women, men, elders, government) could tackle water scarcity.
Debt Monopoly: Interactive board game that simulated financial decision making scenarios to illuminate decision-making processes and test prototype ideas like sweat equity, agro-subsidies and training, multi-cropping.
Time vs. Money: Interactive balance scale that presented time vs. money scenario options to draw out attitudes, preferences and priorities on each resource as well as their comparative value.
5 Prototypes Developed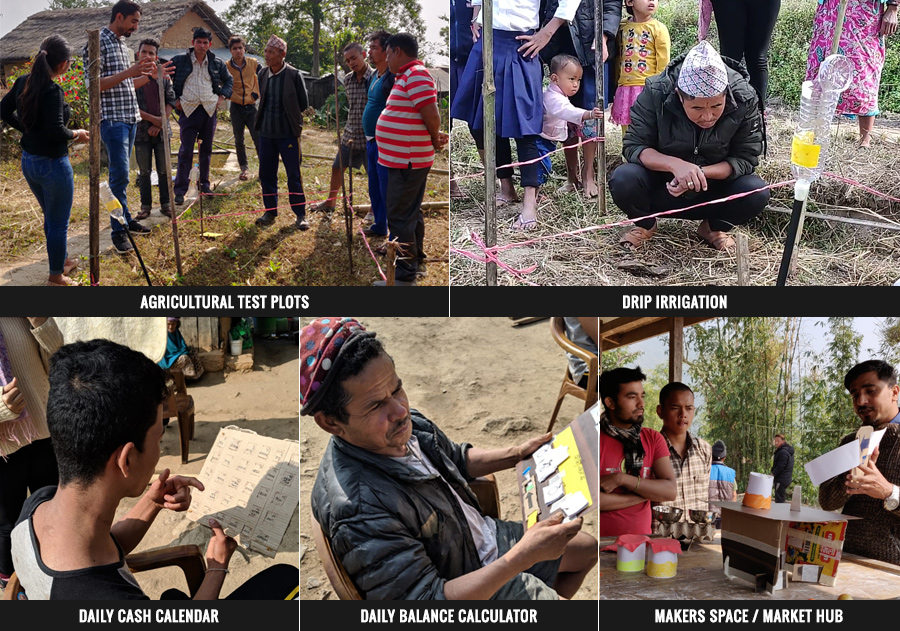 The following five prototype ideas were subsequently co-developed in response to the major problem statements, and field-tested in Sahidbhumi with extensive feedback collected:
Makers Space/Markets Hub: A central hub in the village that boosts technical capability and market-linked activities, e.g. training in crop management, crafts, business literacy, etc.
Agricultural Test Plots: The farmer allocates a parallel plot on existing land with similar crops being grown but adopt new farming practices, through regular agro-training and supervision, in order to overcome risk inertia.
Drip Irrigation: Micro-irrigation system that critically reduces labour expenditure and conserves water, with potential to mitigate soil erosion and risk of diseases while improving the crops' nutrient uptake and yield.
Daily Cash Calendar & Daily Balance Calculator: The first device works as a cash management tool (by portioning cash) and the second, as a daily cash flow calculator (by tracking inflows and outflows).
What's Next & Key Learnings
For the next phase, the LI team will begin to introduce programmes ranging from topical awareness and training programmes in the short term to build up behavioural change and work on local cooperative models in the longer term. Some of the rich insights and ideas gathered over the past year include:
Programmes must align with the actual needs of the community, distinguishing root causes from symptoms, therefore their voices are key to long-term success. This has meant marshalling more time and effort than planned to move from groundwork to implementation
The openness of the community to embrace outsiders and try out new ways to improve livelihoods is moderate to high. This paves the way for small but deeper engagements to take place from 2020, with the right set of local early adopters, champions and influencers
Top-tier concerns from the community are finances (cash flow, debt, resource allocation), agricultural practices (pesticide use, new high-value crops, innovative farming practices), market access, and water management (water lifting and storage solutions)
The way forward is clearer today than it was a year or even 6 months before, with the team more excited and grounded about the next stage of the project – implementation and iteration. We are reminded of the value and importance of taking a systematic, thoughtful approach to work in social innovation and look forward to partnering with stakeholders to create deeper, positive and collective social impact in the lives of people all around us in 2020!