HSBC-SMU Change Leaders for Sustainability
Youth Programmes
Applications are closed.
The HSBC-SMU Change Leaders for Sustainability Programme is a 12-month experience for entrepreneurs and innovators who are fully dedicated to setting up and running a social venture intended to address problem(s) relating to the themes of United Nations Sustainable Development Goals (UN SDGs), with an emphasis on sustainability. The programme supports the personal growth & nurturing of three Change Leaders through self-development opportunities and continuous guidance, and a monthly stipend (S$30,000 per year) that allows the Change Leaders to focus on the ideation and conceptualisation of their start-up venture.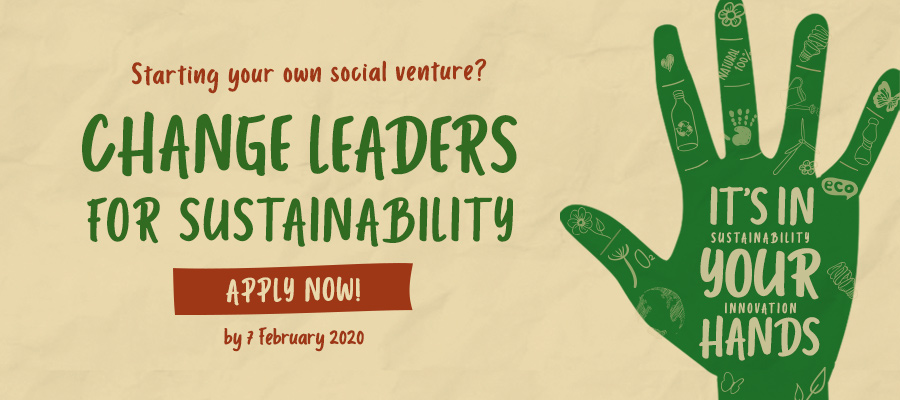 2018 HSBC-SMU Change Leaders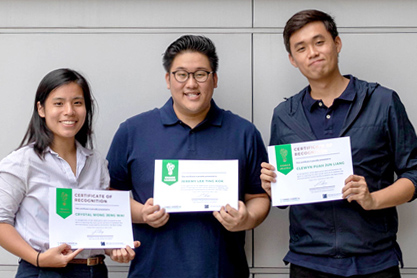 From left to right: Crystal Wong (Bachelor of Business Management, 2018) of Sharent, Jeremy Lee (Bachelor of Science in Information Systems) and Clewyn Pauh (BA of Accountancy, 2018) of UglyGood.
---
Change Leaders
are passionate about tackling problems relating to the themes of the UN SDGs, with an emphasis on sustainability;
value the flexibility and independence to shape their own pathway;
care deeply about building up communities through engaging and sharing your knowledge and experience.
What do we look for?
Purpose & Commitment
You have a clear sense of purpose and direction, and the dedication to see your ideas realised.
Leadership & Resilience
You have the combination of skills, leadership, and perseverance to reach your goals.
An Actionable Plan
Your social venture (e.g. product or service) tackles problem(s) relating to the themes of the UN SDGs, with an emphasis on sustainability, and with a concrete plan that could be brought into fruition and meaningful progress within 12 months.
A Collaborative Approach
You are committed to engaging the wider community, sharing knowledge, and collaborating with partners across and beyond SMU.
Programme Requirements
HSBC-SMU Change Leaders are expected to produce a viable social venture, or a prototype that at minimum expectation, is ready for the market, by the end of the 12-month programme. This will be articulated through clear & measurable milestones, a mid-year report, and a final year report at the end of the programme. The Change Leaders will also have the opportunity for monthly check-ins to ensure continuous growth and adequate support.
Additionally, Change Leaders must commit to giving back to the SMU and the wider community through sharing their expertise and collaborating with other sustainability-related projects at SMU.
Eligibility
You must be a graduate (academic degree) of Singapore Management University.
How to Apply?
You will be required to attach the following supporting documentation:
1. Cover letter & CV
2. Proposal (max. of 5 pages)
As a Change Leader, you have the freedom to chart your own path with self-defined milestones to track your progress. Thus, the proposal is one-year plan (think of it as a roadmap) that outlines what you intend to do if selected as a Change Leader. You should be clear and concise in relating how you plan to take your company, organization, or prototype into fruition or a meaningful progress level within the programme timeframe. In addition, the plan should address the following:
Problem statement: Your proposal should state the the product/service that you offer and how it relates to the UN SDGs and sustainability challenge(s).
Current stage of your social venture/prototype: You should explain the history of your idea and what work you have already accomplished.
Partners and team members involved, and their relationship to the venture: Even though this programme is structured around individual Change Leaders, you will need to work with and rely on others in order to succeed; you should give us a sense of who those key individuals are.
12 month project timeline with designated milestones: You should be able to break down your larger year-long goal into smaller tasks and accomplishments that you can measure.
Submit your application to liencentre [at] smu.edu.sg with "HSBC-SMU Change Leaders 2020" in the email title by 7 February 2020.