LCSI Social Impact Exposure Trip 2023 | Vietnam & Laos
Youth Programmes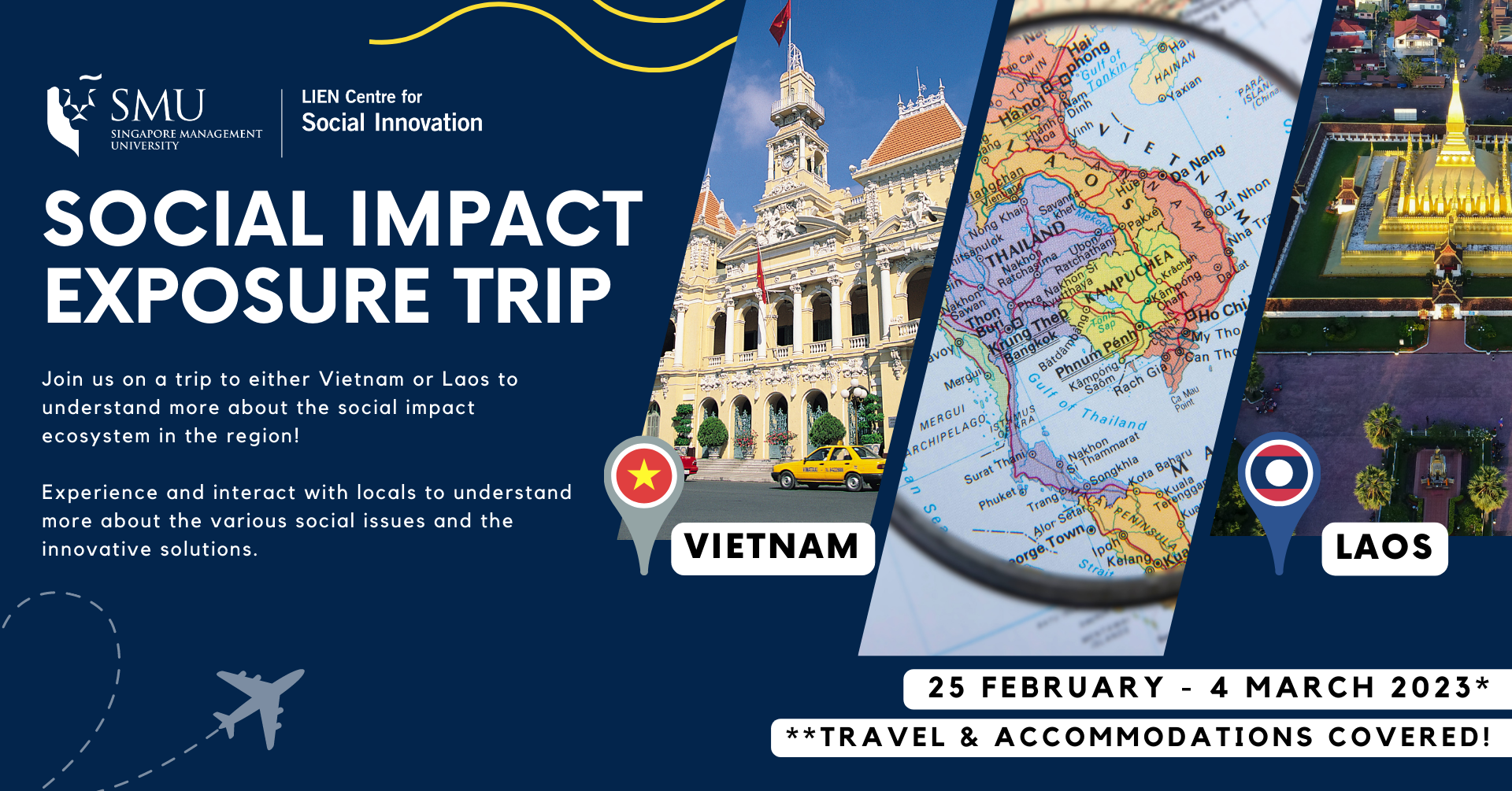 Are you a budding changemaker hoping to find out more about the social impact ecosystem in Southeast Asia?
Join the Lien Centre for Social Innovation (LCSI) on a trip to either Vietnam or Laos this recess week (a 6 days 5 nights travel between 25 February 2023 - 4 March 2023*)!
Best part of it all? Your travel and accommodations are covered by the programme**!
LCSI will be organising a regional study trip for selected SMU students to visit organistions working in the social impact ecosystem in Southeast Asia. For 2023, LCSI will bring YOU to Vietnam or Laos!
Through this trip you will be exposed to various regional social issues and the innovative market-based solutions used to tackle them. During this trip, you will also be interacting with ecosystem players in the Vietnamese or Laotian social impact space, which would include social enterprises, impact investors, accelerators, as well as corporations who are creating impact.
What will you learn from this trip?
A better understanding of the social impact ecosystem and identifying where you can potentially play a role through your future careers
A better understanding of different innovative approaches to address pressing social issues in the region
A better understanding of the Vietnamese or Laotian context and what lessons can be learned and applied in Singapore
Opportunity to meet and network with students from Vietnam or Laos Universities
Where will you be visiting*?
Vietnam - Ho Chi Minh City
and other local landmarks
Laos - Vientiane & Luang Prabang
Singapore Embassy in Vientiane
Institute of Foreign Affairs
and other local landmarks
How to apply?
To apply for the programme, submit your application through the respective google forms below:
Vietnam - Ho Chi Minh City | Laos - Vientiane & Luang Prabang
Limited slots available, up to 15 students per trip. Applications will be evaluated based on your interest in the social impact ecosystem. Shortlisted students will be contacted by LCSI via email.
You will be required to approach your preferred professor to endorse your application with this form.
This programme is only opened to Y1-Y4 full time matriculated undergraduate students.
Note: This programme will NOT clear your Global Exposure (GE) requirement.
Application closes on Friday, 20th January 2023, 23:59.
*Travel dates and itinerary are tentative, and subjected to changes determined by LCSI.
**Accommodations, flight tickets, on ground transport, and selected daily meals provided.