Promoting Peace through Interfaith Giving
Monday May 31,2021 | Others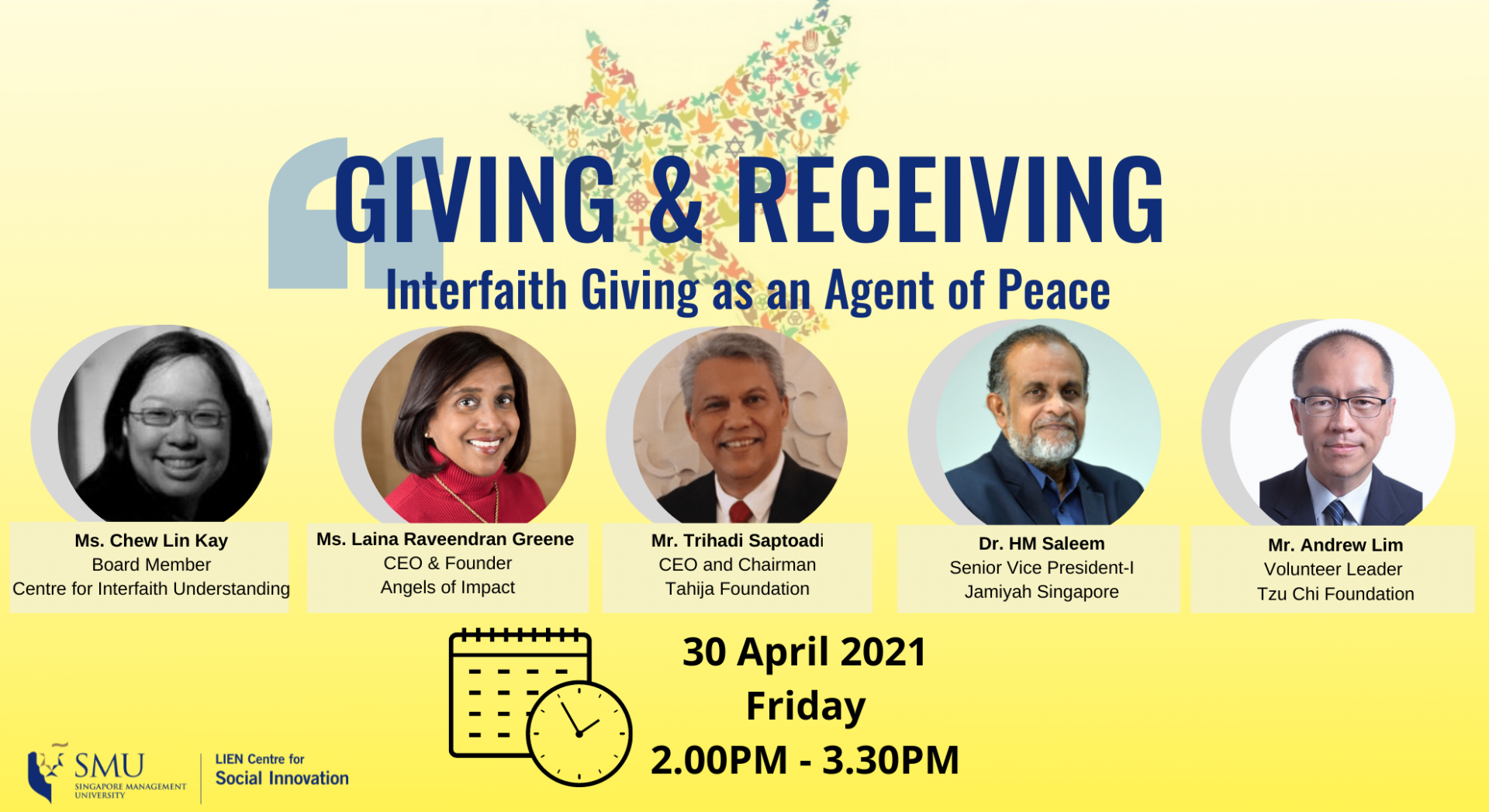 We live in a world filled with complex and 'wicked' problems, from religious to political conflicts, to the global pandemic that has claimed more than three million lives to date. Now, more than ever, we need like-minded allies to work together to tackle these issues. At the core of it all is the human heart, and our willingness to collaborate and cooperate for a better world.

As part of an ongoing series of dialogues that aims to expand the findings from the Lien Centre for Social Innovation (LCSI) Giving & Receiving report published in November 2020, the centre conducted a virtual session in April on the topic of interfaith giving. In conjunction with the Ramadan season, four speakers from different faiths and faith-inspired organisations were invited to share their thoughts about the role of faith in giving. Titled, "Interfaith Giving as an Agent of Peace," the panellists discussed the many ways interfaith giving can help to promote peace and understanding around the world.

The session proved to be an insightful one, as participants had the rare opportunity to learn about the different concepts and philosophies of giving from the Islam, Christian, Buddhist, and Baha'i faiths. Despite the differences in beliefs and faiths, all the panellists recognise the need for and reasons behind the act of giving.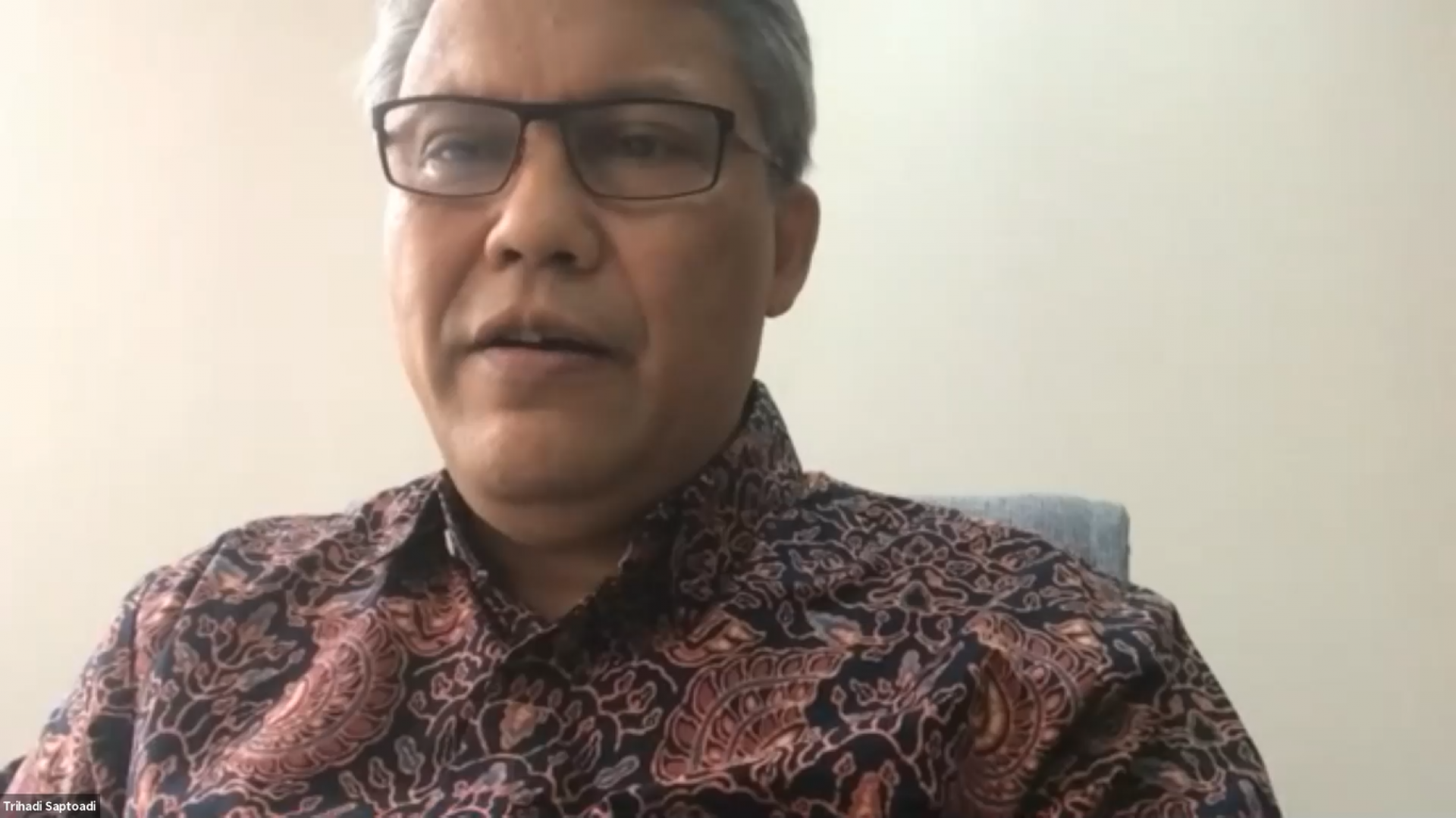 Pak Trihadi, CEO of Yayasan Tahija sharing his insights into how his Christian Faith inspired his non-profit activities.
Pak Trihadi, CEO of Yayasan Tahija, a non-profit organisation that participates in a wide range of philanthropic activities, draws inspiration from his Christian faith and shares that giving has the ability to change power structures and balance out the playing field between the powerless and oppressed, and those who hold power in communities. "We cannot continue giving to people while in the same breath, continue to oppress those we help by maintaining existing political, economic, and even religious systems," he says.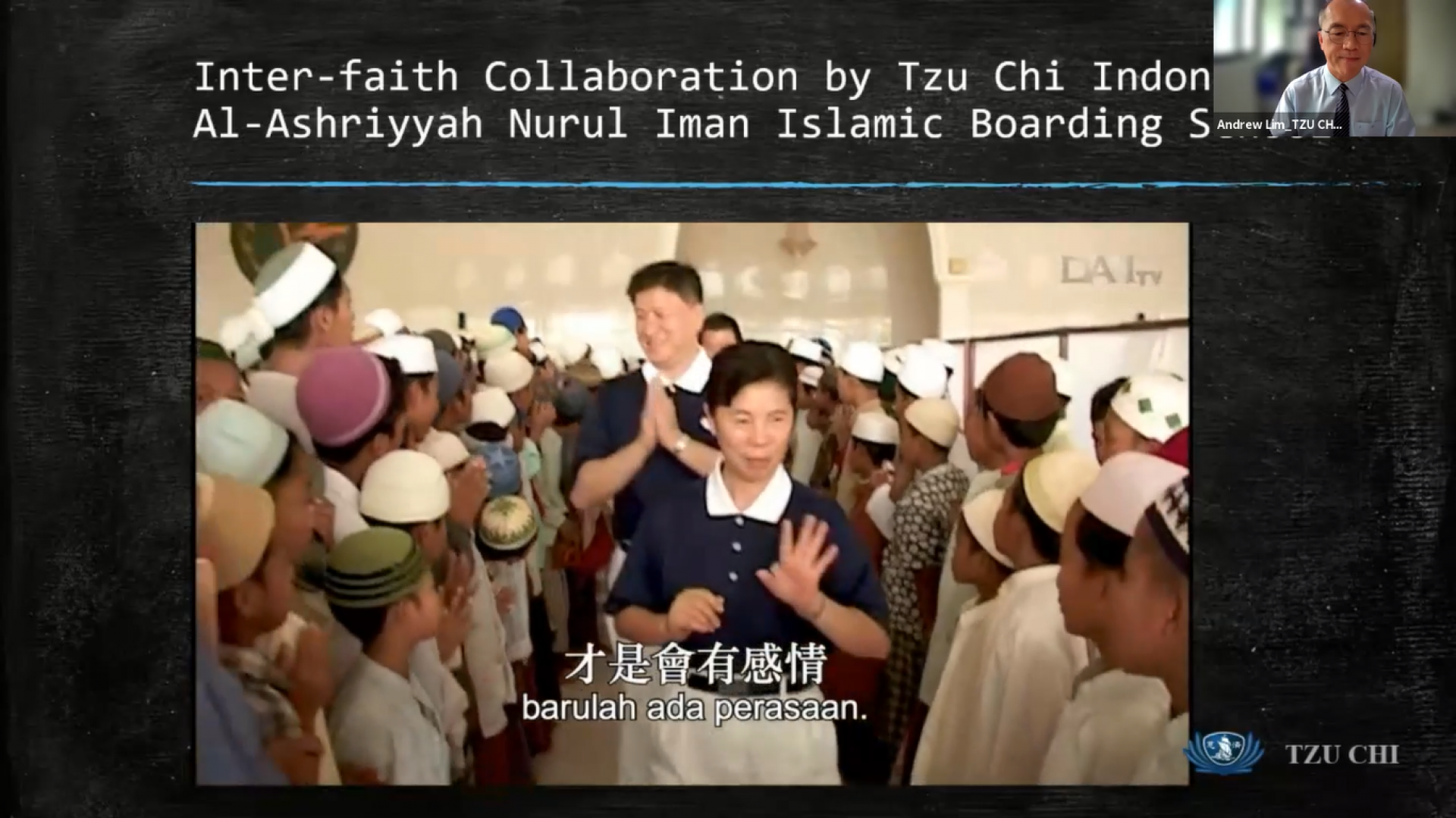 Andrew Lim sharing about Tzu Chi Foundation Singapore's efforts in Inter-faith Collaboration
The idea of collaboration and giving without boundaries was a common theme throughout the session, as representatives from the different religious organisations shared their collaborative efforts to address on-the-ground issues. Andrew Lim, a volunteer leader representing the Tzu Chi Foundation Singapore, shared an example of interfaith giving, when the foundation in Indonesia partnered with a Muslim orphanage to help conduct classes and deliver medical aid and support to students at the orphanage. He explains that such an act to collaborate follows Buddhist practices, as they practice unconditional and selfless giving.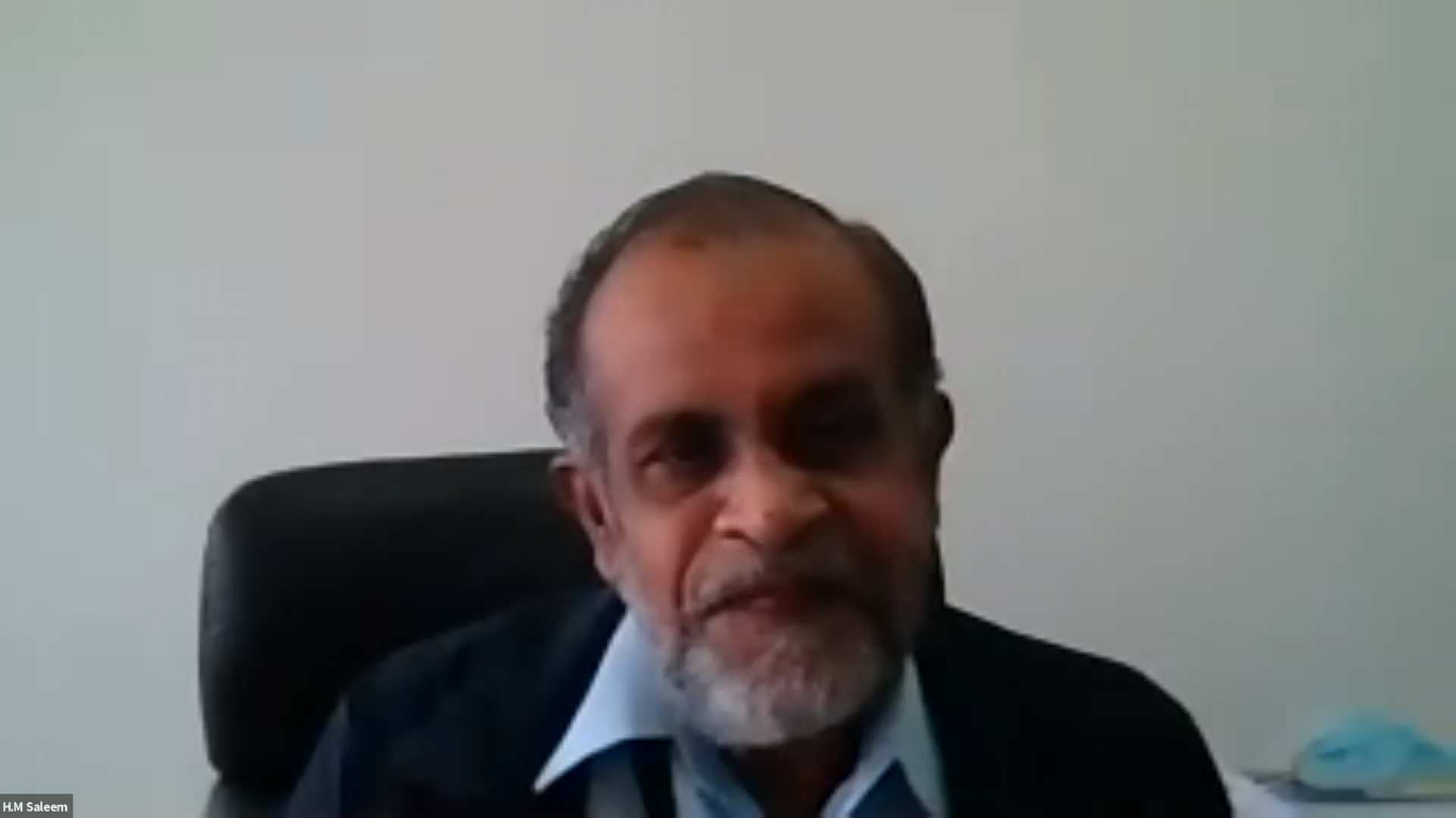 Dr HM Saleem from Jamiyah Singapore sharing his thoughts on interfaith giving
Senior vice-president of Jamiyah Singapore, a Muslim Missionary Society, Dr HM Saleem adds that some people may feel uncomfortable to receive aid from different faith-based organisations, which is why there is a need to continuously build trust and confidence, by working together with other faiths. "We cannot separate individuals by branding them through race or religion. Instead, we need to continuously engage people by understanding what their faith is about, and the cultural nuances." He says that by doing so, it makes us a common people with a common mission.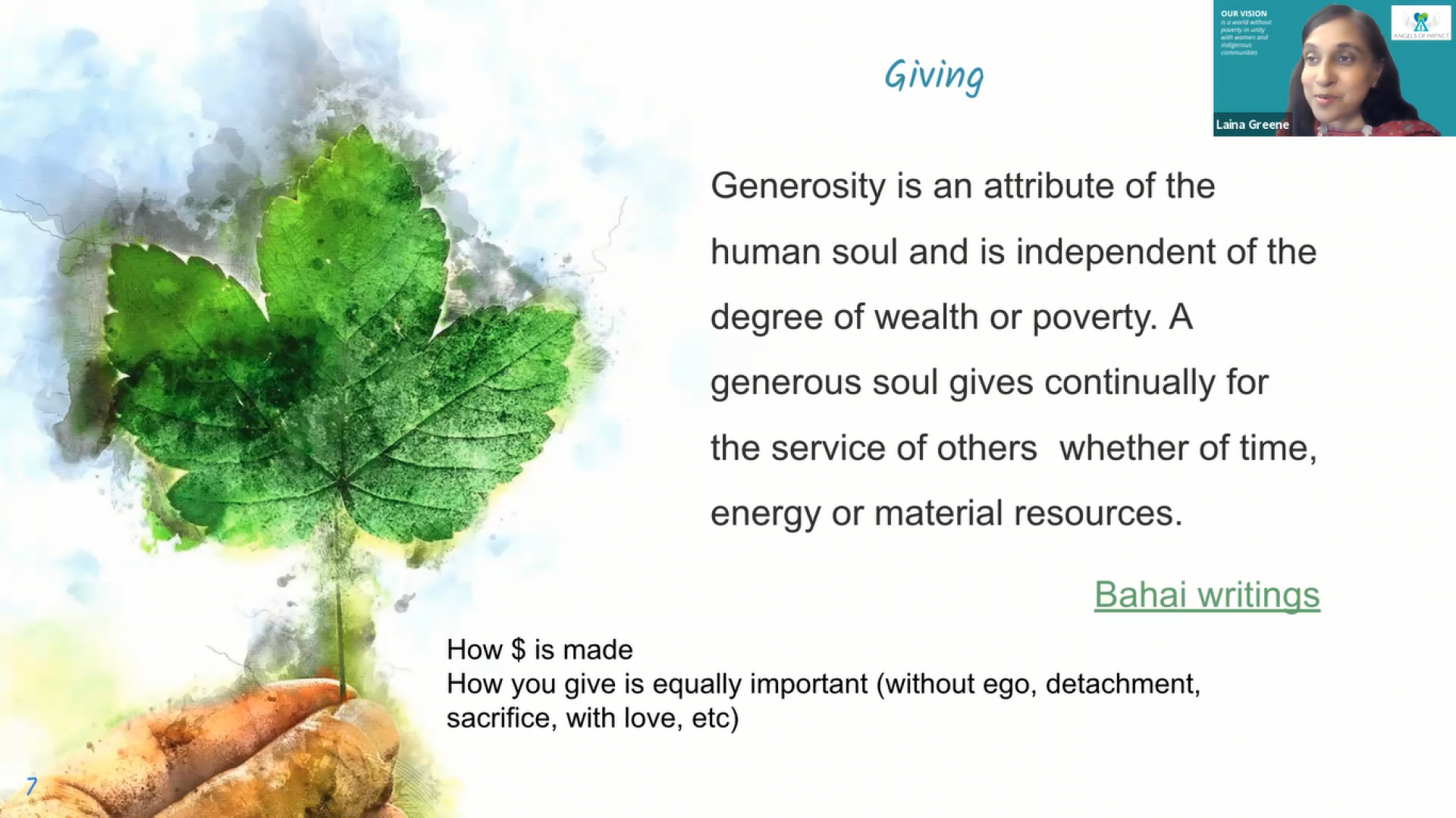 Laina Greene, CEO and Founder of Angels of Impact sharing how Baha'i principles inspire her works
Meanwhile, Laina Greene, CEO and founder of Angels of Impact, explains how its investing principles are inspired by Baha'i principles. "To be Baha'i simply means to love the world. So to me, generosity is an attribute of a human soul and independent of the degree of wealth and poverty." Greene also shares her perspective on financial income, and how that is equally important to giving. "We try to work with donors who have made money in a way that is a service to humanity, instead of from the extractive community," she says.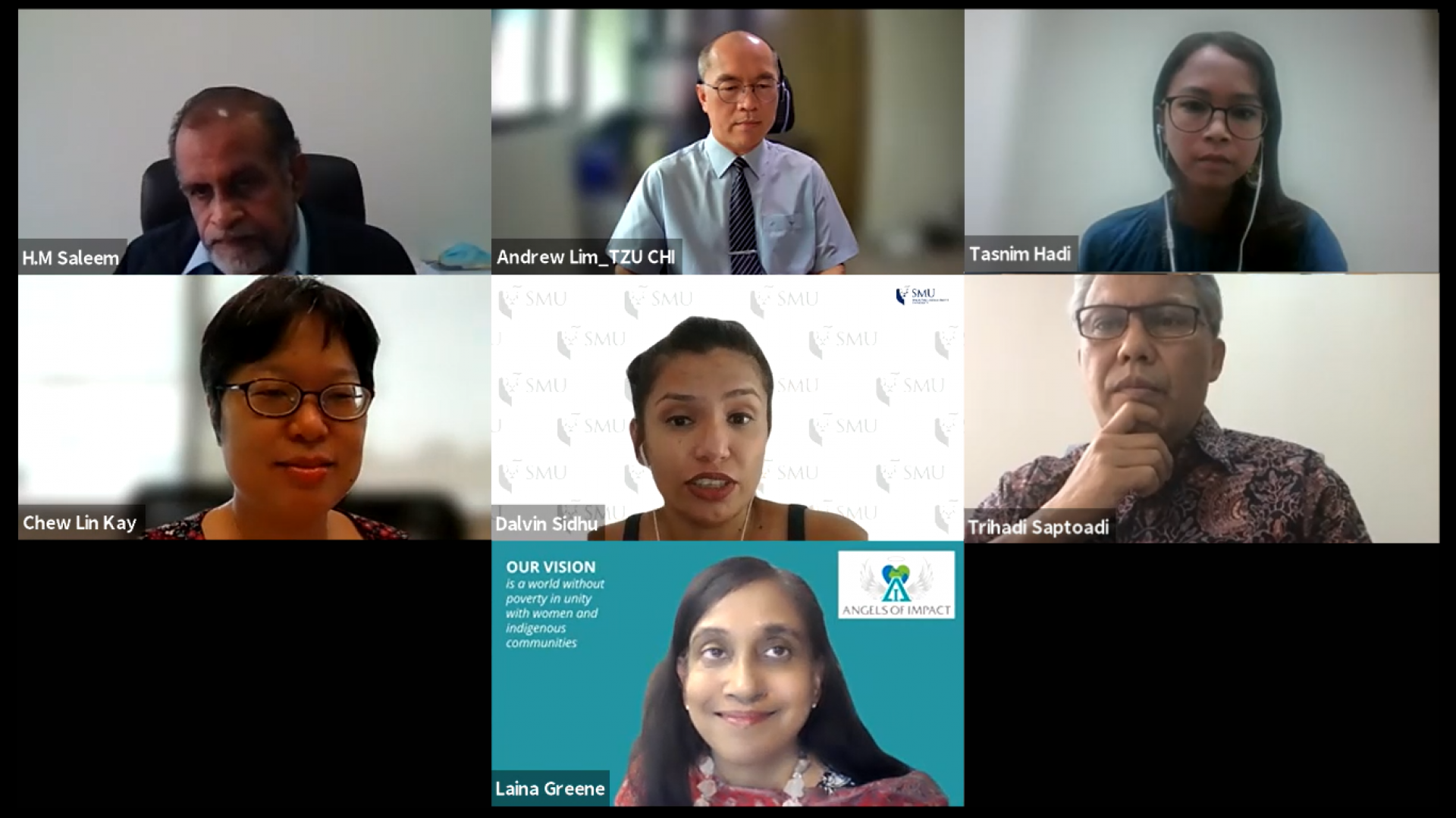 Group photo of all speakers along with LCSI staff members
Despite the diverse views and insights, it was clear from the session that everyone agrees in giving their best for a better world, regardless of their faiths. With respect for each other and a spirit of collaboration, we can tackle the world's wicked problems, together.