Meet our 2020 Summer Associates
Wednesday Jun 17,2020 | From Our Office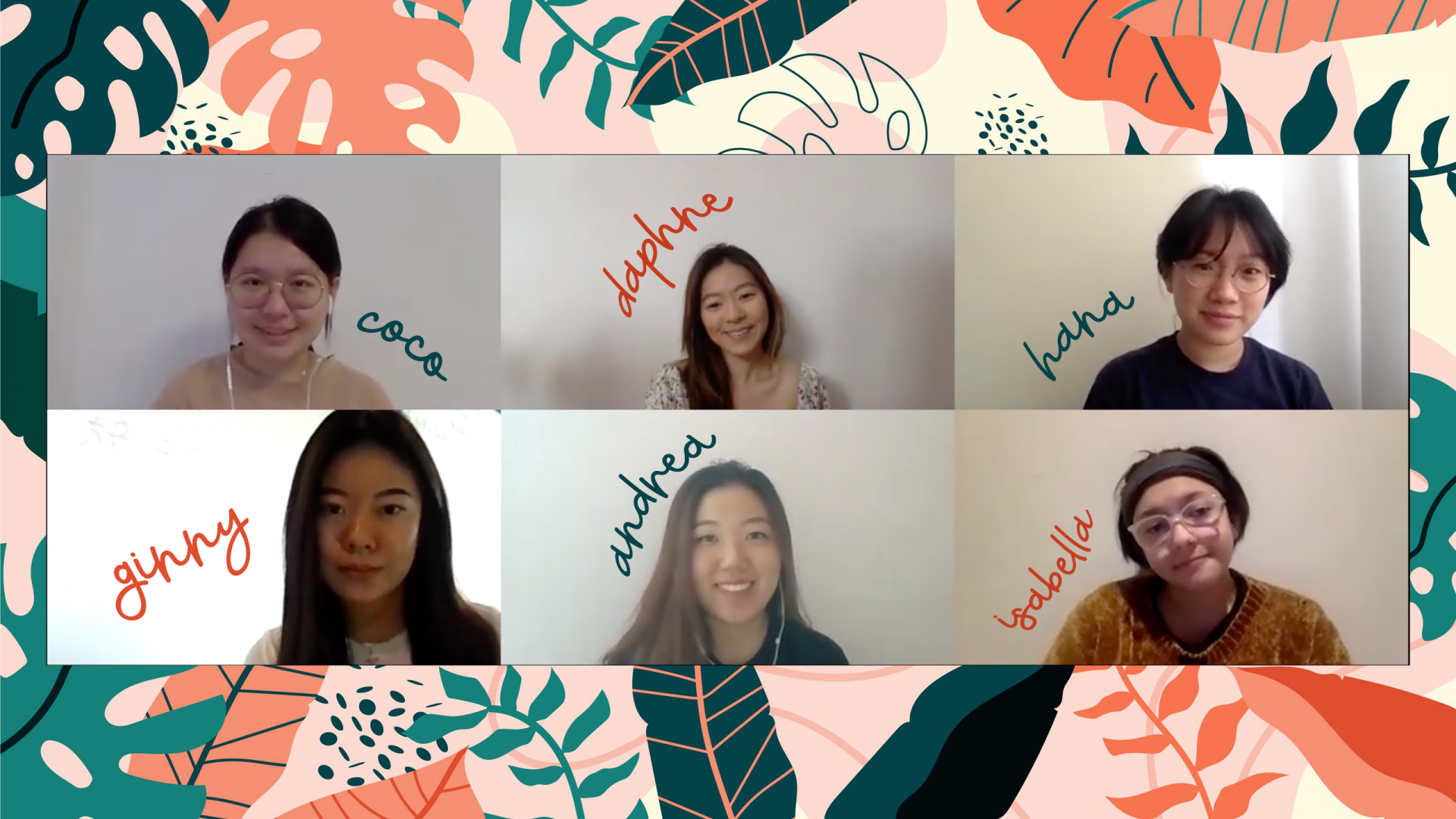 The Lien Centre for Social Innovation is excited to welcome six interns as part of its annual Summer Associates Programme. Held virtually this year from June to August, they are given opportunities to work on meaningful projects relating to social change and impact, as well as attend masterclasses to hone their skills in editorial work, marketing and communications. Get to know these up and coming changemakers below.
Also see: Meet Our 2019 Summer Associates (Part 1) and Meet Our 2019 Summer Associates (Part 2).
---
Andrea Tong

Marketing & Communications Associate | Rising senior at SMU Lee Kong Chian School of Business majoring in Marketing
Andrea enjoys travelling and learning about different cultures. As a Singapore Management University undergrad, she has participated in four global exposure programmes. She was involved in an overseas community service programme to Myanmar in her freshman year, and subsequently in her sophomore and penultimate year, she participated in two business competitions. In the first, she and her team were awarded the bronze prize in the Asian Youth Venture Forum organised by The Korea Economic Daily; in the second, they emerged as the top 5 finalists in the SMU PAK Challenge hosted by SMU Eagles Inc.
Why did you choose this internship and what do you hope to get out from it?
I was drawn towards the Lien Centre for Social Innovation's mission to catalyse positive change locally and globally. I also hope to enhance my understanding of societal needs and knowledge on environmental issues. Through this internship, I look forward to applying my creativity and putting my marketing skills into practice.
What motivates you?
I am a people-person and am motivated by meaningful conversations. I enjoy listening to other people's opinions and gaining insights from different perspectives.
If you were a fruit, what fruit would you be?
A passionfruit—because I am passionate about what I do! Once I set my heart on doing something, I will go at it with passion, empathy and curiosity.
---
Coco Dong

Marketing & Communications Associate | Rising senior at SMU Lee Kong Chian School of Business majoring in Marketing and Finance
Coco is a rising senior at the Singapore Management University and is passionate about helping marginalised groups, particularly underprivileged children and the elderly. Her previous community work includes mentoring primary school students, befriending the elderly and raising funds for people with health issues. She hopes to visit the Anne Frank House in Amsterdam one day.
What are your hobbies?
Reading and making art journals are my favourite pastimes! Sometimes I'd stay up till 2 a.m. to do these as I'm usually busy during the day. They are a nice way to relax and unwind. I'd also love to pick up guitar in the future.
What change do you hope to see in the world?
More tolerance, understanding and respect for other people. The George Floyd incident really brings to attention the degree of violence and chaos that can result from racism and discrimination. I strongly believe that everyone should be treated equally regardless of physical appearance, gender, religion, ethnicity, and so on.The world definitely needs more love, peace and equality.
Why did you choose this internship?
I've always wanted to do something meaningful, and to play a part in giving a voice to underprivileged and marginalised communities. At the same time, I'm interested in marketing and communications, so I hope to use this summer to gain some hands-on experience, skills and meet like-minded people.
---
Daphne Toh

Marketing & Communications Associate | Rising junior at SMU majoring in Psychology and Strategic Management
Daphne is interested in the dynamism of social science, and its link to how societal phenomena can impact behaviour. She holds an Executive Committee role as the Marketing and Sponsorship Director of the SMU Dragon Boat Team. Daphne hopes to use this internship as an opportunity to learn more about changemaking and be a part of efforts to create positive social impact.
What is the best decision you've made in university?
Joining the school dragon boat team. Dragon boat is a sport that has always intrigued me, but I never had the opportunity to pursue this interest until I came to SMU. Nobody ever expected me to join such a demanding sport—in fact, all of my friends encouraged me not to join in the beginning. But I really enjoy being on the dragon boat team and consider it the best achievement of my university years.
What is a change you hope to see in society?
I hope that people can have more empathy for and less hatred towards others. I believe respect, tolerance and patience are very important values, and we should apply them more when it comes to exchanging diverse views.
Why did you choose this internship?
The Lien Centre's mission to heighten social consciousness and enable partnership-driven innovation really resonated with me. I'm very interested in human behaviour, and hope that by learning more deeply about social issues, I can become a more empathetic person. I also plan to use this opportunity to educate myself and be a part of changemaking.
---
Ginny Hwang

Marketing & Communications Associate | Rising Sophomore at Yale-NUS College
Ginny is a passionate advocate for female empowerment, mental health and healthcare. In her free time, she enjoys making art, writing poetry and painting, and seeks to explore intersections between her own art and activism. She additionally aspires to provide counselling and support for vulnerable communities in Asia.
Why did you choose this internship?
The Lien Centre offered me a unique opportunity to explore my interests in content creation and marketing, as well as gain more knowledge about the social innovation sector. I look forward to doing my part in amplifying the Centre's work and encouraging meaningful discourse around social issues.
What have you been doing a lot more than usual lately?
Cooking for myself and my family! Food has always been my passion, but until recently I did not have the space or time to practise my culinary skills. This summer, I have been exploring different recipes for pastries, Mediterranean cuisine, as well as Korean dishes (food from my home country).
What's a book you'd recommend a stranger, and why?
The Duino Elegies by Rainer Maria Rilke. It's a collection of elegies that draws heavily on mystical symbols of angels and salvation. The writing, which is intimately beautiful, raises philosophical inquiries and is illustrative of the human condition and consciousness in solitude. I immediately fell in love with the lyricism and beautiful composition of the poems when I first read the pieces.
---
Hana Kameike

Editorial Associate (Social Space) | Rising junior at Yale-NUS College majoring in Philosophy
Hana is interested in the ethics of healthcare for marginalised and vulnerable groups. She aspires to be involved in healthcare policy work in Singapore and Japan (her home country), which will go towards improving quality-of-life for the elderly and terminally ill. She recently attended the Sherwin B. Nuland Summer Institute in Bioethics, during which she presented on the legal determination of brain death in Japan.
Why did you choose this internship?
Social Space, the Lien Centre's flagship content platform, presented a great opportunity for me to think through and share my understanding of current social issues in a more public and professional setting. Academic writing has been my primary means of engaging with social issues thus far, so through this internship, I hope to learn how to write for a more diverse audience and spark fruitful social dialogue.
What social issue are you most passionate about?
As a philosophy student with a focus on ethics, I'm interested in how we can craft more ethical approaches to palliative care and mental health care. Given that many terminal illnesses and mental conditions compromise a patient's decision-making capacity, an overtly paternalistic care approach can be—and often is—wrongly justified. By exploring Eastern and Western thought on virtue, consciousness and relationships, I hope to contribute new insights towards building healthcare that truly serves its patients.
What's your favourite book?
The Memory Police by Yoko Ogawa. The protagonist is a young novelist who lives on a mysterious unnamed island, where objects periodically disappear along with the knowledge and memories attached to them. I picked up this book a week before Singapore's circuit breaker came into effect, and read it while students around me were hastily moving out of my college campus.
What's your favourite dessert to make and eat?
Leche flan. It's a Filipino custard dessert similar to crème brulee, but topped with a syrupy caramel sauce instead of a solid caramel layer. My mother used to make it on special occasions, and I would help her mix the custard while she carefully cooked the caramel. When I return home next time, I'd like to learn how to make it myself and enjoy it with my family.
---
Isabella Nuñez

Marketing & Communications Associate | Rising Junior at Yale-NUS College majoring in Anthropology
Isabella (Izzy) is an international student from Colorado, USA interested in social justice. In her free time, she enjoys playing and writing music on the electric guitar. At Yale-NUS, she is the current Co-President of the queer and feminist student organisation, The G Spot: Yale-NUS Gender & Sexuality Alliance, and is also involved in the Intercultural Engagement office on campus. Izzy is passionate about community-building and space-making centred around women, racial minorities, and the LGBTQ+ community. She hopes to be involved in changemaking at home in Colorado as well as here in Singapore.
Why did you choose this internship and what do you hope to gain from it?
I chose this internship because the Lien Centre is making important connections in the social innovation scene, and I wanted to learn more about the sector. I also hope to gain more skills in marketing and social media, particularly when it comes to promoting non-profits and social enterprise work.
What motivates you?
I am motivated by my friends! I feel very lucky to have met many wonderful people in just two years of living here in Singapore. I am inspired by their tireless work in furthering efforts for social justice in their communities, while also supporting each other and having fun.
If you could have a superpower, what would it be?
Flying! Zoom zoom.
---