Tote Board Social Capital Internship 2022
Students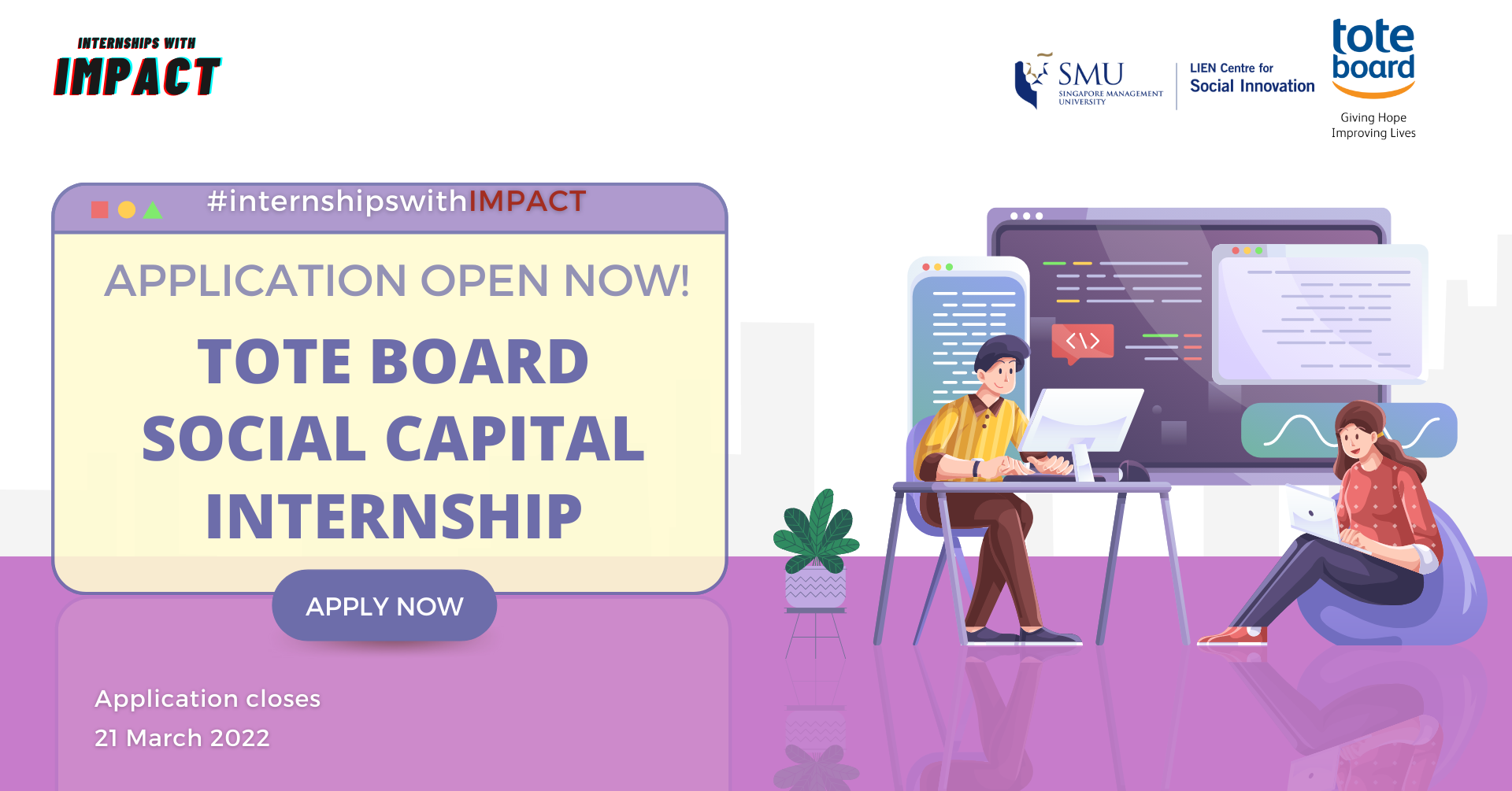 SMU Tote Board Social Capital Initiative Internship Programme 2022
The Tote Board Social Capital (TBSC) Initiative at SMU was established through the support of the Tote Board to promote social capital through a number of initiatives, one of which is a selective internship programme through the Lien Centre for Social Innovation (LCSI) aimed to raise the capability of non-profit and social purpose organisations. Currently such organisations, especially the small and medium-sized ones, have varying degrees of guides for resource mobilisation and optimisation in areas like volunteer, intern or communications management. Where no such formal guides, references or SOPs exist, it hinders the organisations' ability to effectively tap on community resources or utilise their existing resources in a sustainable and optimal manner in the mid-to-long term. The interns in this year's programme will focus on developing an accessible Volunteer Management Handbook and accompanying resources that organisations can easily adapt to their own use.
This year, the TBSC Initiative will be supporting four undergraduates with the position of the Resource Optimisation Interns. They will be tasked to work on the development of a Volunteer Management Handbook (VMH) that will be useful to Social Service Agencies (SSA), Charities and Social Purpose Organisations (SPO). Besides content that serves the purpose of a handbook/guide, there should also be resources (e.g., fillable forms, checklists, etc.) that organisations can use to monitor and evaluate their volunteer management strategies and initiatives. For this project, interns will work together to:
Understand the volunteer management needs of organisations through primary and secondary data collection;
Produce the VMH and resources that would be practical, comprehensive and user-friendly for organisations
Develop the amplification strategy aimed at raising the visibility of the VMH/resources and getting organisations to use them.
Duty and Responsibility
Conceptualise handbook, conduct primary and secondary research
Develop VMH content and resources
Test-run clarity and usefulness of VMH and resources through stakeholder feedback and pilot workshops
Project administration, management and logistics
Involvement in relevant social innovation projects/training at LCSI
Desired Skills, Experience and Qualities
Strong research, writing and oral communication skills to carry out project and deliver high-quality outputs.
Prior experience and interest in developing handbooks, SOPs, best practices, benchmarks
Skills in technical writing, data visualisation and presentation/workshop training
Ability to conceptualise project as a team; work independently and in tandem with team mates in respective responsibilities
Ability to deliver milestones in a timely manner
Preferred Undergraduate Course of Study: Business Management, Economics, and Social Sciences
(Year 1 - 4* Undergraduate)
Programme Criteria
Students should also note the following prior to submitting your application for the programme. Ensure that you fulfill the following points:
This programme is only opened to Y1 – Y4* Undergraduate students based on admit year
*Y4 students are only eligible if they are graduating in December 2022. To apply as a Y4 UG Student, please write in to

liencentre

[at]

smu.edu.sg

You have completed your pre-internship requirements
If you are a student with SOA, SOL or SCIS –This internship will not qualify to meet your mandatory internship requirement. Thus apply only if you have already fulfilled the mandatory internship requirement under your respective degree. This internship is not open to Year 1 students from SOA, SOL and SCIS.
Internship Period
Preferred start and end date: 4 May 2022 - 22 July 2022 (negotiable start date)
How to Apply
Application is now closed.
If you have any questions about the programme, please email liencentre [at] smu.edu.sg.